Create effective programs using eLearning standards
When it comes to eLearning, Learning and Development (L&D), managers often face a number of challenges in their efforts to ensure effective training and management of their organization. These may include determining the most relevant eLearning standards, ensuring compatibility between content creation software and Learning Management Systems (LMS), managing the cost and effort involved in creating and delivering eLearning content, and ensuring accessibility for all learners. Additionally, it can be a challenge to keep up with the ever-evolving eLearning landscape. Despite these difficulties, L&D managers can take steps to overcome these pain points and create effective eLearning programs that meet the needs of their organization.
What is an eLearning standard?
Standards are a common and widely used concept in various industries and aspects of everyday life. They refer to a repeatable, agreed upon and documented method of performing a task or achieving a specific result. Standards can be found in a wide range of areas, from the food we eat to the batteries we use to power our devices.
Have you ever used USB drives to transfer files? You can plug a USB drive into any computer, Mac or PC, and it will work because USB drive manufacturers adhere to a number of standards. This interoperability feature allowed compatibility across different operating systems and computer types.
Just as a set of standards can impact different industries, the eLearning Standards Set has played a key role in moving the eLearning industry forward. In this post, we'll explore the popular eLearning standards available and dive into their features and benefits. We will also evaluate which standards are considered best for specific needs and goals.
What is SCORM?
SCORM, or Shareable Content Object Reference Model, is a set of technology standards developed in 2000 by the ADL (Advanced Distributed Learning) organization, which is part of the US Department of Defense. It has become a widely used industry standard for eLearning and supports interoperability between eLearning courses and the platforms on which they are hosted.
SCORM-compliant courses can be created and published using eLearning authoring tools and can be found in zip folders on any SCORM-compliant LMS. With SCORM, you can track the status and compatibility of your eLearning course, as well as completion status, grade scores and percentages, and the number of points earned by users. You can also see how many times a user has joined a course and present them with certificates.
Over time, SCORM has evolved and is now available in four different versions, the latest being the Experience API (xAPI). However, it is important to note that SCORM is not the only eLearning standard available; other standards such as AICC, HACP and xAPI also have their place in the eLearning domain.
What are the different eLearning standards?
1. SCORM
SCORM is available in several different versions, each with its own unique features and capabilities. Here's a quick overview of the available options:
SCORM 1.1
This was the first version of SCORM, but it was not widely adopted.
SCORM 1.2
This version fixed many issues present in the previous version and is the most widely used version. It is supported by all types of LMS.
SCORM 2004
This version has four different editions, each released to meet specific requirements:
The first release, which is not fully implementable, was released in January 2004 and can be used as a self-service version.
The second edition, released in July 2004, introduced new features such as the content aggregation model and the runtime environment.
The third edition, released in October 2006, is the most commonly used version of the content-runtime interaction sequence. Additional compliance standards have been implemented to improve its compatibility.
The fourth edition, released in March 2009, simplifies the course development process and enables easier production of sequenced material. It also includes additional features for content producers and a new certification method to address LMS-related issues.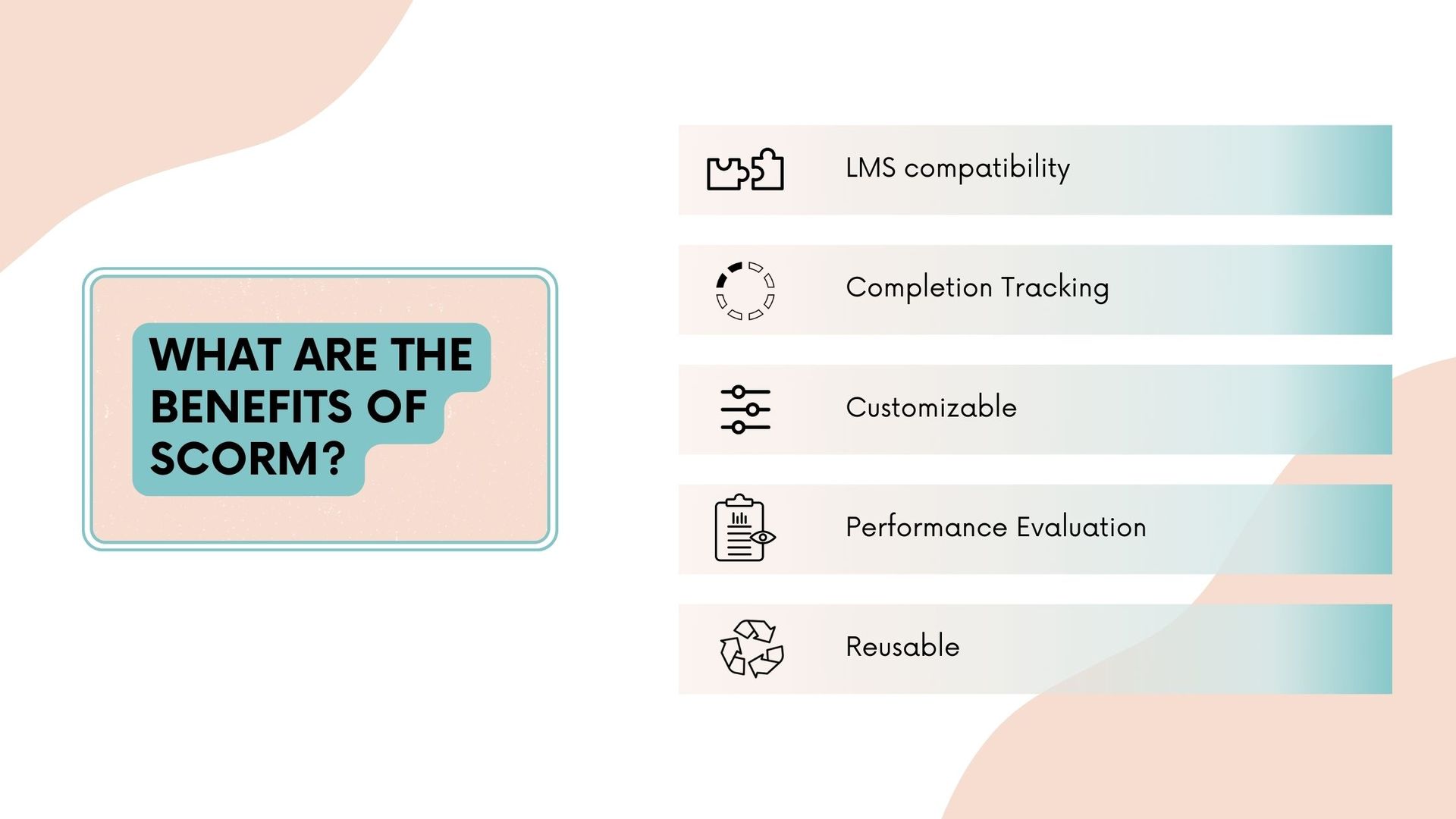 2. xAPI
The Experience API (xAPI) or Tin Can API is a modern standard that provides guidelines for transferring and storing data. It enables the collection of data from various sources (not only eLearning courses), such as team learning activities, simulations, mobile learning and electronic games. Records of student or team activities are transferred to a Learning Record Repository (LRS), which may share transcripts with other LRSs and may exist within the LMS or independently.
Unlike SCORM, which only works with compatible LMSs, the Experience API can receive, store, and transfer data across multiple learning environments using a learning record store. It can track learning activities on social media, online and offline, and the LRS can be a stand-alone component or part of an LMS.
In addition to the benefits of SCORM, the Experience API offers increased security, independence, cross-domain communication, advanced mobility, and device flexibility thanks to LRS. It also enables the integration of interactive elements such as simulations, social learning opportunities, game scenarios and adaptable learning experiences. When you choose to publish your courses to any of these standards, it's important to ensure that the LMS you plan to store your online training courses in is compatible with that standard.
3. cmi5
Cmi5 is a standard that can be used to integrate traditional learning management systems with xAPI. It ensures that the learning content and LMS are plug-and-play compatible because the xAPI functionality is very general and enables a wide range of use cases.
AICC (Aviation Industry Computer-Based Training) launched Cmi5 in 2010. Cmi5 was designed to replace AICC and SCORM standards with more features and robust solutions. Both the AICC and SCORM standards had technical issues and limitations and overlapped each other. In 2012, as ADL's Tin Can API research project (now known as xAPI) was winding down, AICC was finalizing the SOAP-based Cmi5 communication mechanism.
Participants from the AICC and ADL soon realized that the two standards had many similarities. ADL and AICC decided to work on the xAPI profile to meet the more specific criteria for using cmi5, and now xAPI has a wider application than cmi5. The CMI5 project underwent an overhaul in 2012, replacing the SOAP design with xAPI. In 2014, AICC was disbanded and the CMI5 project was handed over to ADL.
4. AICC
The AICC was a non-profit, technology-based international organization of training professionals credited with creating the first guidelines for eLearning. The organization has developed technical standards that facilitate the development, delivery and evaluation of training materials across computer-based training platforms that any industry can use for their online courses. AICC HACP uses AICC to enable communication between the eLearning course and the LMS.
In order to host and distribute material, LMS or learning platforms must be AICC compliant and meet at least one of the nine AICC criteria and recommendations. Initially, these guidelines were used exclusively for CD-ROM training, but in 1998 they opened up to Internet training.
Even though the AICC is considered obsolete, there are still reasons to ensure that courses and LMS meet its requirements. AICC allows the distribution of course materials on multiple servers and uses the secure HTTPS protocol for data transfer. However, it is limited in that it cannot track course progress and retrieving data from the LMS can be cumbersome.
How can a good eLearning supplier help?
Ranjana, an experienced L&D manager in a large multinational corporation, faced a problem. Her company had a diverse workforce spread across different locations and time zones, making it difficult for her to accurately track the progress and engagement of her employees in the eLearning courses she designed for them. Determined to find a solution, she turned to an eLearning solutions expert to help. After discussing her specific needs and challenges, the expert recommended that she implement the xAPI standard into her company's eLearning program.
The expert explained that xAPI is designed to receive, store and transfer data across different learning environments, making it perfect for her situation as it would allow her to track learning activities across online and offline platforms, including social media and other external sources. In addition, xAPI enables the use of simulations, social learning, gaming and adaptive learning, providing a more engaging experience for employees.
Ranjana was impressed with the solution and quickly implemented xAPI into her company's eLearning program. With the new standard, she was finally able to accurately track the progress and engagement of her employees, allowing her to make data-driven decisions to improve her training program. Feeling confident in her decision, she reached out to the expert to express her gratitude and say that xAPI was the perfect solution to her problem and that it exceeded her expectations.
Which eLearning standard should you choose for your company?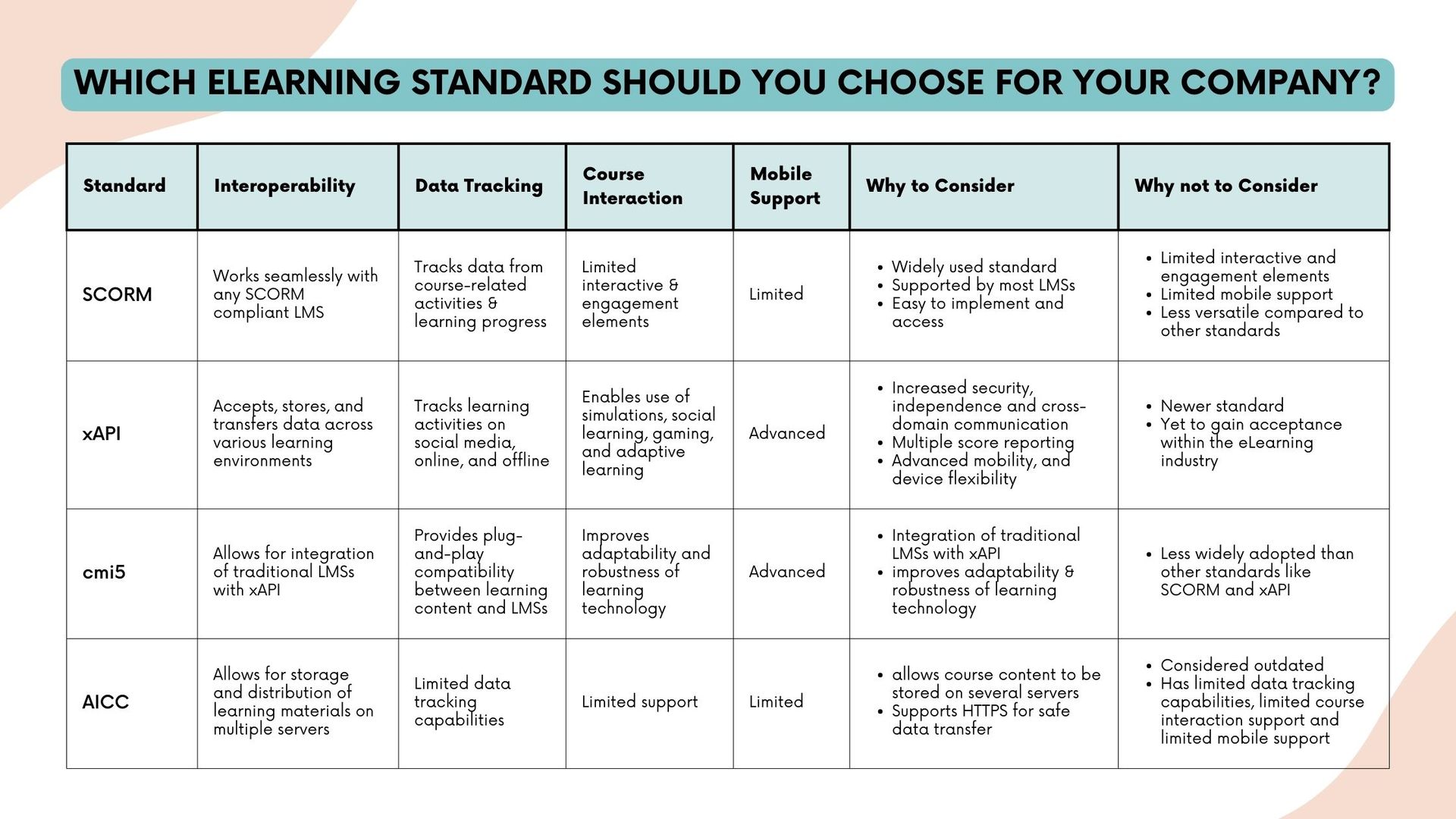 Parting thoughts
eLearning is a versatile and effective training method that can be used to deliver information on a wide range of topics. Its aim is to impart knowledge and help students solve problems at work using their newly acquired skills and knowledge. However, as an L&D manager, it is critical to ensure that your eLearning courses are compliant with industry standards such as SCORM so that your course development efforts are not wasted.
When considering implementing a new learning management system or upgrading an existing system, a thorough analysis of your organization's needs, demographics, and student expectations is essential. This will ensure that your organization's eLearning efforts are aligned with your goals and objectives.
Thanks for the pictures:
The images/infographics in the body of the article were created and supplied by the author.
thought
Dealing with various outsourcing vendors can be difficult and draining resources. Thinkdom Learning Solutions simplifies the process by providing engaging and cost-effective solutions for all your online training needs in one place.