eLearning Trends 2023
Hello! We're back at work after reluctantly shaking off our post-holiday blues. Our Lead Instructional Designer has just the tonic to wake us up and enter the new year with all our creativity and focus… let's see what she thinks the eLearning landscape will look like in the coming year. The last two years have been very difficult. The disruption caused by the pandemic has accelerated the e-learning industry. Along with many other things, the pandemic has changed our perception of knowledge and learning. With economic uncertainty and recession now looming over the horizon, lifelong learning is the new mantra.
Studies predict that the global e-learning market will grow by $45,000 million between 2023 and 2027 [1]. The industry's global compound annual growth rate (CAGR) is expected to be 12.19%, and the Indian e-learning service provider sector is expected to grow by a whopping 30%. [2]. Other key market drivers include the increase in the student population, growth in shadow education, expanding social presence, and the rise of social and collaborative learning. To stay competitive in such a competitive market, it's important to understand what's trending and what's not from two perspectives: first, the students who consume the content, and second, the organizations that support and drive learning. Let's explore some key trends in eLearning and how to embrace them.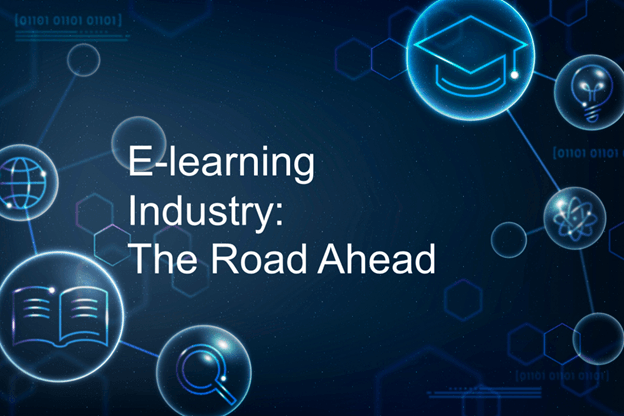 Key Trends in Student-Driven eLearning for 2023
1. Technology of augmented reality and virtual reality
Immersive learning experiences are here to stay. Augmented Reality (AR) and Virtual Reality (VR) technologies, previously limited to video games or 3D movies, have now crept into the education sector. These new technologies can be particularly useful in:
Simulating scenarios that are otherwise difficult to create
Creating visual overlays
Providing 360-degree visuals that provide an immersive learning experience
AR and VR technologies are reliable ways to add interactivity and make learning more engaging. Implementing AR and VR from the ground up is a complex task. You will need to take advantage of the expertise of teams that are well versed in developing such products. Identify a team that can help you create an AR/VR learning solution, discuss your ideas, state your needs and develop a solution.
If this is not a feasible solution, look for any open access AR and VR resources that suit your eLearning course. For example, if your course is about endangered/extinct species, you can check if there are any freely available 3D models available and use them in your course to create an immersive experience.
2. Personalized learning
The era of universal courses is over. We are now in the age of personalized learning. Gone are the days when students had to consume what was offered. Many training providers offer customized learning experiences to their students. Consider the student's strengths, interests, aspirations, and needs to create unique educational programs that meet very specific educational needs.
3. Adaptive learning
Design and develop learning programs that can adapt. Customize them to fit each student's skills, needs, and interests. You may be wondering how adaptive learning differs from personalized learning. Personalized learning is actually a subset of adaptive learning. There are specialized algorithms for implementing adaptive learning, but adaptive learning can be implemented in simpler ways. While adaptive learning provides customized learning programs, personalized learning aligns with the learner's progress and allows the learner to customize the learning. You can implement adaptive learning:
Creating alternative learning paths
Adding optional tutorial content like tooltips, sidebars, etc.
Using assessments to allow students to dive deep into a module or skip it entirely
Assigning learning material based on student roles or performance
4. Microlearning
Our trusty friend microlearning is still trending. How can it ever go out of style when the attention span of adult students is shorter than that of a goldfish? Microlearning helps break down learning into small pieces of content and can be effectively used as a reinforcement tool. Help students retain knowledge better by providing targeted and specific learning content in short bursts at regular intervals. Students can consume your content at a time and place that suits them.
5. Gamification
Add a competitive edge to your eLearning program using gamification techniques. Gamification, simply put, is the addition of game elements to a non-game environment. Motivate your students with the right mix of challenges, rewards and performance levels. Make sure the game aspect of your learning program is compelling, habit-forming, and encouraging students to play toward the right goal.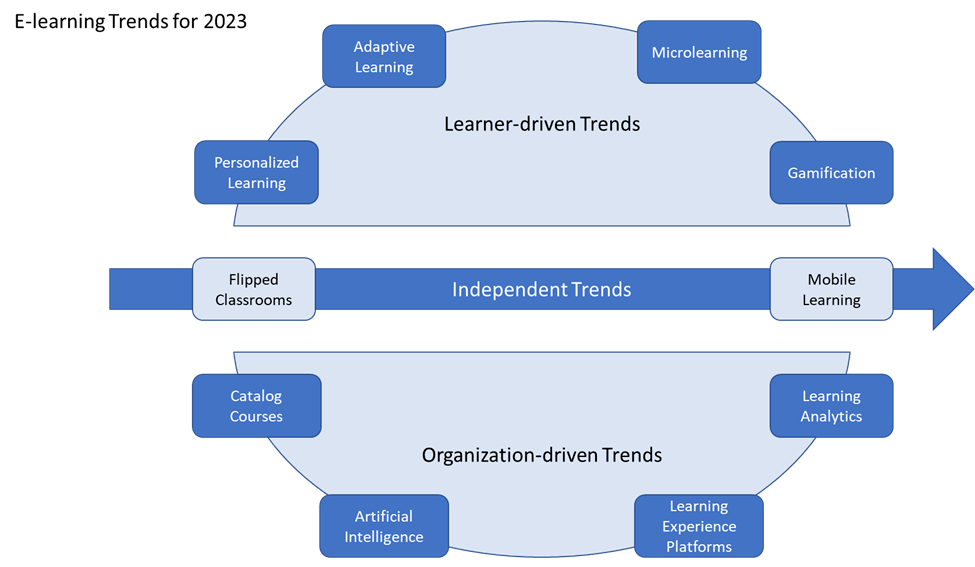 Key trends in eLearning driven by the organization for 2023
1. Catalog courses
Catalog courses are ready-to-consume e-learning courses designed and developed by industry experts. Catalog courses are also known as regular courses. These courses can be plugged directly into an organization's L&D program and consumed immediately. A wide range of topics can be covered in the catalog courses. Two key advantages of catalog courses are lower costs and faster training times.
Not sure how to use them? Start small. Choose a highly sought after course within a center of excellence (CoE) or delivery unit within your organisation. Team up with a subject matter expert to create three variations of the same course, each with a different level of difficulty (easy, intermediate, and advanced). Implementation within the CoE. Evaluate the effectiveness of the courses. The next step is to create a list of courses that would benefit the majority of your workforce. Repeat the same exercise and scale it up across your organization.
2. Artificial intelligence
Artificial Intelligence (AI) is slowly becoming a significant part of our lives, and the eLearning industry is no exception. Artificial intelligence can be used effectively to make learning more holistic. Use the power of AI to make your courses personalized and adaptive. For example, if a student is taking a Python course, the recommender can be used to suggest machine learning or deep learning courses. Or, based on the learner's progress, the platform can present material with increasing complexity, prompting the learner to master the concepts.
Strategize and organize learning material based on student needs and challenges. You can understand student behavior, track student performance, and use the data to create a customized curriculum for each student. AI helps bridge knowledge gaps better. Other areas you can tap into are creating AI educational games and developing AI teacher assistants that can interact in a human-like manner.
3. Learning Analytics
In the data-driven world we live in, analytics plays a key role. Organizations around the world allocate significant budgets to upskilling their employees. Learning analytics provide insight into the effectiveness of L&D activities. These insights help strategize learning activities, optimize costs and make informed L&D business decisions. Almost all learning management systems (LMS) come with analytics features. You can harness the power of data analytics to understand which courses are most effective, content engagement rates, completion rates, and which courses students are looking for, to name a few use cases. Use analytics wisely to build a thriving learning culture.
4. Platforms for learning
We hear the buzzword Learning Experience Platform or LXP everywhere these days. What is it? How is it different from our good old friend, LMS? Both LMS and LXP are tools that help training providers manage the delivery of eLearning courses. While LMS offers a traditional top-down approach to learning, LXP works more like a personal learning portal. LXPs help students create their study path. Relevant learning content will then be aggregated and delivered to students, helping them achieve their learning goals.
LXPs are valuable tools in an L&D organization's journey. They do not replace LMS. However, they enrich the teaching by providing personal learning portals within the organization's LMS. A combination of the eLearning trends we've discussed so far can help you transform your existing LMS into a rich learning platform. Here is the tutorial.
Personalize your learning
Through dashboards, landing pages, and automatic assignment of learning content (based on course completion, role, etc.).
Use gamification techniques
For your benefit. The right combination of these can easily mimic LXP.
Create multiple learning paths
This can be achieved through performance-based learning advances or branching scenarios.
Harness the power of referral engines
Submit a list of recommended courses that are tailored to the student's needs and interests.
Create your own reports
They help students monitor and assess their learning.
Flipped classrooms and mobile learning are other constants that will shape the e-learning industry this year.
Have you already focused on eLearning trends to adopt? Good luck creating enriching learning experiences!
Reference:
[1] Global Corporate E-Learning Market 2023-2027
[2] E-learning market size by technology (online e-learning, learning management system (LMS), mobile e-learning, rapid e-learning, virtual classroom), by provider (service, content), by application (academic [K-12, Higher Education, Vocational Training]Corporate [SMBs, Large Enterprises]Government), COVID-19 Impact Analysis, Regional Outlook, Growth Potential, Competitive Market Share and Forecast, 2022-2028
Thanks for the pictures:
Images in the body of the article were created/supplied by the author.

Bright blue digital
Clearly Blue is a content design studio specializing in creating engaging technology and management eLearning. Whether it's video-based eLearning, app-based microlearning or blended learning material, Clearly Blue is the provider of choice.