The Thurgood Marshall College Fund (TMCF) and the Hennessy liquor company announced the fifth cohort of the Hennessy Fellows Program, which aims to prepare the next generation of black leaders through financial assistance, training and professional development.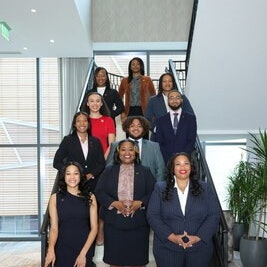 The program—for students from historically black colleges and universities (HBCUs)—takes those selected to Charlotte for three-day workshops in leadership, communications and media relations and to New York for a boot camp in competency areas such as leadership presence, finance. , operations, influence and business acumen.
Each member also receives executive coaching, a stipend of up to $20,000 per academic year, an annual stipend of $10,000 for educational expenses, the opportunity to apply for a community project grant of up to $10,000, and access to online training forums, boot camps , networking events and professional development experiences.
More than 30 students have completed the program, which is funded by an approximately $14 million commitment from Hennessy to TMCF over 10 years.
The 2023 Hennessy Fellows are:
Tia Pope – North Carolina A&T State University; Ph.D. D, Information Technology
William Gaspard, Jr. – Southern University Law Center; JD candidate
Morgan Newton – Morgan State University; MBA candidate
Hanna Bruns – Howard University School of Law; JD candidate
Erika Tribble – Howard University; MBA candidate
Giordan Rose – Savannah State University; MBA candidate
Latia Boney – Howard University; MBA candidate
Brandon Moise – Clark Atlanta University; MBA candidate
Karmyn Tatum – Florida A&M University; MBA candidate
Cierra Robinson – Morgan State University; Ph.D. D, Higher Education Administration
"Hennessy is committed to supporting the black community, and together with The Thurgood Marshall College Fund, we are helping to build the next generation of leaders," said Jasmin Allen, Senior Vice President of Hennessy USA "By providing them with the resources they need. , investment and development opportunities that can help them achieve their goals, we continue to ensure that HBCU students are positioned for success during their undergraduate years and beyond."