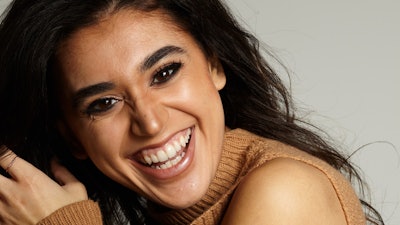 During her baccalaureate degree in nursing, Sabrina Jamal-Eddine informed the clinical instructor of her back disability and lifting limitations, and also explained that she could do everything but lift the patient. They took her to the administrative office and asked why she had signed up for a major she couldn't physically handle. Jamal-Eddine explained that she would not be going into bedside nursing and was well aware that there are different and rewarding paths into the nursing profession.
"My long-term goal is to research, confront, and disrupt ability (discrimination against healthy people) in the context of nursing, applied health sciences, and medical education," said Jamal-Eddine, a doctoral student at the University of Illinois Chicago (UIC), College of Nursing. "I hope to design, create, and implement a range of innovative, interdisciplinary arts and community pedagogies that bridge this gap between critical disability studies and health education by preparing health care students to be aware of and challenge oppressive, ableist health attitudes and practices."
A second bachelor's major in women's, gender and sexuality studies solidified her desire to be a voice for change in both health care and health education. Early in her doctoral studies, she reviewed existing literature that clearly indicated the need to explore innovative pedagogies to educate nursing students and instructors about ability and disability.
"I came to understand the ways in which the institution of nursing education structurally excludes students with disabilities from entering our profession," Jamal-Eddine said. "These are experiences that are unfortunately shared by disabled clinical healthcare students across the country, including disabled nursing students, medical students and applied health science students."
After researching and studying the effectiveness of spoken word poetry as an undergraduate, Jamal-Eddine figured out how to drive systemic change through storytelling. Her doctoral research explores the use of spoken word poetry as a form of critical narrative pedagogy to educate nursing students about disability, ability, and disability justice.
"Spoken-word poetry is an embodied performance poetry that brings together the stories, voices, and lived experiences of marginalized people through processes of critical education and liberation focused on justice and anti-oppression," explained Jamal-Eddine.
Her dissertation examines spoken word poetry practices as a pedagogical tool in the disability justice education of nursing students. It examines how UIC junior nursing students perceive a non-traditional transformative spoken word pedagogical intervention to address ablism and the subsequent impact on the care of disabled patients.
As she continues to work on her dissertation, she will inform and guide the vision and practice of spoken word poetry in the context of nursing and health education. Jamal-Eddine said she envisions spoken word poetry becoming one of several tools for humanizing critical narratives that challenge and disrupt harmful hegemonic ideologies in nursing education.
"I see her helping to design nursing school curricula to be more inclusive and accessible to students with disabilities," said Dr. Sarah Abboud, assistant professor in the UIC Department of Human Development Nursing Science, College of Nursing. She added that Jamal-Eddine may face backlash because nursing faculty don't like to hear that they practice and maintain competency.
"I believe that stories heal and prevent the unnecessary repetition of harmful oppressive cycles and spark action," Jamal-Eddine said. "Community-engaged research is truly vital to the liberation of oppressed communities."