Montclair State University's Male Enrollment and Graduation Alliance (MEGA) sponsored its inaugural conference last Friday, bringing together scholars and practitioners to explore best practices for young men of color.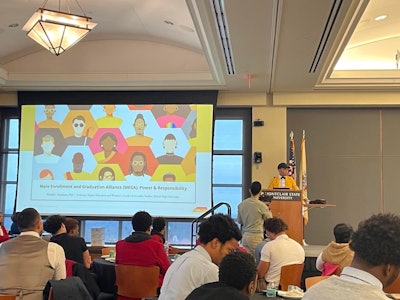 The day-long symposium, titled "With great power comes great responsibility," was supported by the Educational Testing Service (ETS). This year's keynote speaker was Dr. Terrell L. Strayhorn, noted author and professor of higher education at Illinois State University.
"Thought leaders and high school scholars left the symposium encouraged and informed," said Dr. Daniel Jean, assistant provost for special programs at Montclair State University. "Moving forward, MEGA will continue to lead the critical work of improving, researching, and sharing best practices for Black and Latino men."
Strayhorn praised Montclair State University for the success of the MEGA Summit, adding that the convocation was "Clarion calls for an urgent need to focus on the sense of belonging of minority males in education," he said.
"Belonging is not a luxury or perk for a privileged few, it's a basic need that all individuals deserve," Strayhorn said. "Through intentional action, policy reform, programmatic innovation, and equity-focused leadership, we can champion diversity and cultivate environments where minority men feel supported and included. Let's strive to create conditions that foster a true sense of belonging, where every individual feels valued and strengthened for success."