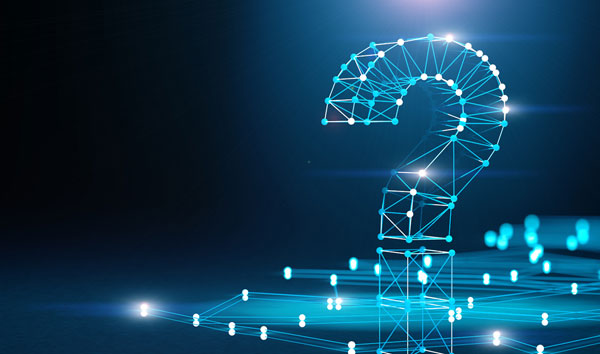 I have been leading strategic enrollment planning at RNL for more than ten years. It is my pleasure and passion to work with colleges and universities of all sizes, types, and missions to develop strategic enrollment plans that help them respond to turbulent environments and adapt to ever-changing academic demands, employment needs, and student diversity. .
In this post, I'm sharing some common questions I hear from campus leaders as a way to encourage you to attend RNL's Strategic Enrollment Planning (SEP) Executive Forum, April 19-20 in Las Vegas. Consider bringing in a team to start the process for your college or university.
What are the most pressing issues facing enrollment leaders and how can strategic enrollment planning address them? Here are some common questions I hear from campus leaders.
How can I continue to attract students to study at my institution and convince them of the value of earning a degree or other credential amid a growing number of people questioning the value of a college education and growing competition?
As we operate more and more as if we were in a post-pandemic environment, most of us are still trying to figure out what the new normal will look like. If we don't imagine how future and current students' mindsets have changed, how they've been affected by several semesters of forced online learning and isolation, we can't create strategies to meet them where they are and will be. Spring 2023 brought the first year-over-year increase in enrollment in a decade, but was it a blip or the first step toward a recovery in enrollment? Resilient institutions will be those whose strategic enrollment plans flexibly respond to movement in both directions this fall. However, it is essential that we extend our vision to the next year as well. Our current SEP partners are balancing their efforts to enter the next class while strategizing to position themselves three to five years down the line.
What are the building blocks of a strategic enrollment plan?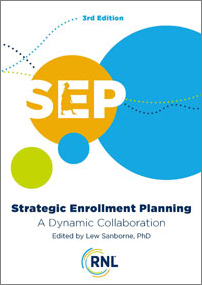 President Eisenhower once said, "Plans are nothing; planning is everything." The foundation of good strategic writing plan is good strategic enrollment planning process.
The key is to bring the right people together, give them access to institutional and external data, encourage cross-institutional collaboration, embrace transparency and roll up your sleeves and get to work. Recognize at the outset that the goal is not to do everything, but to use data to identify strategies that have the greatest potential to improve institutional performance and that will mobilize the campus community to action. It sounds simple, but it requires strong leadership. We simply don't have enough bandwidth to do everything, so a systematic data-driven planning process with clear prioritization criteria is an absolute must.
Pictured: The third edition of our book, Strategic Enrollment Planning: Dynamic Collaboration, will be released in spring 2023 and will be provided to every SEP 2023 forum attendee. This book is the most comprehensive on the subject and elaborates on the topics I discuss here, as well as many other key areas of HSE.
What distinguishes strategic recruitment planning from recruitment and retention planning?
Our recruiting plan is usually a yearly plan, a plan of what we're going to do to get to the next class. Similarly, our retention plans often focus on enhancing our portfolio of services and supports to deliver incremental gains for student success in the next cohort. Strategic admissions planning begins with the institutional mission and then links academic program planning and fiscal planning with recruitment and retention planning.
Our marketing and recruitment efforts are designed to bring students to our institutions to study in our academic programs. Our retention efforts are designed to support student success so students stay enrolled in and then complete our programs. The entire financial enterprise, from capital campaigns to disbursement of financial aid, is designed to help students enroll, provide quality programs and pay the bills. If enrollment planning is only about student acquisition and retention, then it is probably not strategic or holistic enough.
While strategic enrollment planning will not magically eliminate organizational forces, it will intentionally reduce their impact on organizational collaboration as individuals from across the institution come together to identify challenges and opportunities and create plans that strengthen enrollment and fiscal foundations. institution.
How do we create an effective strategic enrollment plan that includes input and collaboration from all areas of the college?
One of the first steps in any strategic enrollment planning process is to build an organizational structure. We'll cover this in detail during our SEP forum, paying particular attention to variations by institution type and focusing on the uniqueness of each campus visited, but here are a few tips. The SEP leadership group should include key campus professionals—from enrollment, academic affairs, and finance—but not necessarily represent all divisions, or it will be too large (and thus less effective). A structure with a coordinating group supported by task forces with specific areas of focus—ie, marketing and recruiting, finance and financial aid, academic programs, student success—will expand the number of participants and allow for representation as the organizational structure moves to the second, task force level.
What trends should we pay attention to when we start planning?
The fast-approaching decline of the high school drop-out population is old news, but it still needs to be planned for. Most schools need explicit strategies to attract and serve mature students with the flexibility they now expect. We need to be prepared for students to expect more delivery options, including online, whether adult, traditional, on-site or online. We must also diversify our reach and marketing efforts across channels, be proactive and respond in highly customized and personalized ways. We are also witnessing shifts in demand for academic programs; depending on the type of your institution, we should plan to deliver credentials that can be completed in a shorter time frame than a traditional 120-credit bachelor's degree or even a one-year master's degree.
How do we measure the success of the strategic enrollment plan?
Another early step in the process is to establish key performance indicators (KPIs). A strategic enrollment plan is ultimately successful if the metrics you identified as important at the beginning move in the desired direction during the implementation period of the plan.
At the same time, a good planning process should have organizational and cultural benefits beyond simply moving metrics. An inclusive and transparent planning process should engage the campus community and raise awareness of how enrollment affects the health and success of the institution. It can also break down silos, provide a common school vocabulary and change the ways institutions use data to make decisions. Campus culture and climate change may be more difficult to measure, but should be an important focus of the SEP process.
How effectively do we use data when making registration decisions?
At RNL we prefer informed about the data decision to data driven decision.
Colleges and universities are complex organizations, and focusing only on data can lead to overlooking important cultural and human elements that should be considered in the decision-making process. This means we are committed to using data to the best of our ability to inform decisions. How to do it?
First, you need to have data you can trust.
What does your environmental scan tell you about what's happening in the demographic and education market around you?
What does your internal data tell you about your institution's performance?
How does your performance compare to local, regional or national benchmarks?
When deciding on an enrollment strategy, the key is to first understand the data and look for messages that will help you think about your strategy. For example, if you are geographically located in an area that is experiencing an increase in population that you previously did not serve, then the data would likely indicate a market development opportunity.
If your retention data shows that a certain population is underperforming compared to the norm, you have identified a population that is at risk. Before you start developing a strategy, you'll need to look deeper into your data to try to understand the causes of this performance gap.
Similarly, you may find that your program development strategy will be relatively expensive to implement, but market demand research shows poor enrollment potential. If you don't launch a program, don't think of the planning work as wasted effort: on the contrary, your work collecting data and creating projections can save your institution from investing in a program that doesn't cover the costs of implementation.
How can I ensure that my plan is truly strategic?
There is risk in any planning process overactivity syndrome,trying to do too many things at once. There's also the risk of playing it safe to prioritize low-risk, low-reward initiatives because you think you can do them with the people and tools you already have.
RNL's strategic enrollment planning process intentionally uses the data-driven approach I described above to shift the focus from the end of the normal distribution to the student population below the greater part of the curve.
How many students do we need to recruit or retain for the initiative to be considered strategic?
How much net income do we need to generate?
Obviously, the answers to these questions will vary from institution to institution, but exploring these questions during the planning process is essential to identifying truly strategic initiatives.
What can I expect when I attend the RNL SEP Forum?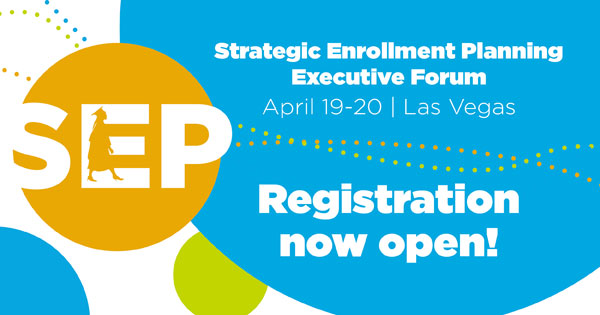 The answers above only begin to address these frequently asked questions. During the forum, we will delve deeper into how to streamline the strategic enrollment planning process for your college or university.
Our RNL experts and our campus experts will guide you through the entire process
You will receive resources that provide a template for working with the process on your own campus and the upcoming release of the third edition of RNL's comprehensive book: Strategic Enrollment Planning: Dynamic Collaboration.
The forum is a great opportunity for teams to participate as you can use it as a springboard to develop your own SEP process.
Past participants tell us that they are after the forum energized, organized, and ready to make a positive difference in enrollment on their campuses. Check out the schedule and join us in Las Vegas April 19-20!