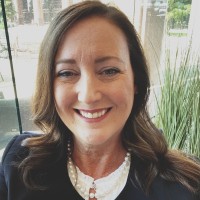 From Capella, to Rasmussen, to Saint Mary's University of Minnesota, Andrea Carroll-Glover has led online programs for large institutions, small institutions, and help of every size and shape since she began working in higher education 15 years ago. Last month, we talked with her about the building blocks that need to be put in place to scale online programs.
This month, we're talking about some of the strategic issues that institutions really need to critically consider as they plan to meet student demand for greater access to online programming. When you consider that new IPEDS data indicates that at both the graduate and undergraduate levels there is now near parity among those students who choose to enroll in all online and all classroom courses, it's time to upgrade and improve your online program and related support. system) scaling strategy.
Prior to higher education, Andrea's roles included building sales, marketing and product strategies and solutions for technology startups. The foundation is increasingly useful to her as it helps higher education institutions think through the critical issues associated with scaling online systems and related support ecosystems. Here are some of her thoughts on three critical questions:
How do you think schools should think through decisions about what aspects of online expansion they should do alone and what aspects would be more successful if they found a strategic partner?
Andrea: These decisions are clear when key institutional stakeholders sit down and work through an internal assessment of their strengths and weaknesses in all areas that will be affected by online expansion before making a bunch of "one-off" decisions. I've seen a lot of abuse of the classic SWOT analysis, with past practice leading some to think it's just "busy work". The reality is that a thoughtful process is the foundation of success, but the real value comes after it's done and stakeholders and leaders are asking "so what now?
It must be an honest assessment – ​​carried out by multi-level stakeholders – that answers questions such as:
What are we really good at? What are we not so good at?
What are our capabilities with the people, resources and technology we have today?
What is our capacity to invest in building some of these capacities internally?
Will it be cheaper to build them in-house or find an external partner?
With limited resources, what are the things we would MOST want to increase our capacity for?
Through this initial process, you will begin to see the cross-functional nature of the range of stakeholders that need to be included in the assessment, as well as who will enable the success of future strategies. Some of these cross-functional leaders include:
Executive leadership to align support, priorities across institutional initiatives.
Financial management explain current resources and provide resources necessary to build capacity for growth.
Technical management and staff provide insight into current technical capacity, identify gaps and drive technology transformation and innovation necessary for scaling.
Registration and Marketing Managers and Staff provide insight into the current practices and future resources needed to be competitive in an entirely new field.
Representation from your registrar, bursar, financial aidand other offices to provide a realistic assessment of current capacity to change core processes and procedures.
Academic stakeholders who can honestly assess an institution's ability to not only translate, but transform curriculum into high-quality online learning.
At the beginning, middle and end of this process, there must be clear "ground rules": it's okay to admit that there may be areas where you're not great, in fact you often are. path to success. You also have to accept that you can't do everything. Again, this is often the path to success. Finally, you need to be open to the idea that finding the right partner may be your best bet for some things—and trust that it will allow your internal operations to focus more intently on things critical to your institutional mission.
Are there things that institutions must do themselves?
Andrea: Everyone expects the answer to this question to be – all academic. However, I never say "never" or "shouldn't". We know that institutions must retain ownership of the curriculum of each course they offer, and that institutions most often seek to maintain teaching and learning functions. That's at the heart of what they do, and wanting to keep control of it makes sense.
However, the path to the highest quality online education is very complex and I have seen a number of institutions that have benefited from external support. Why? Because they need to learn how to design effective online courses – which goes far beyond a great curriculum. Faculty need coaching as they transform their curriculum in this new space. They also need coaching in best practices for quality teaching in an online environment.
From the student's point of view, external expertise can also be important. Today's students are probably way ahead of their teachers in using online technology to do all sorts of things in their lives. They will accept all kinds of online student support services (writing center, tutoring, etc.) because they grew up with those types of things elsewhere. Meeting the expectations of these students—using the latest technologies like AI and ChatGPT in courses—is the best way to prepare the workforce of the mid-21st century. External support may be necessary. This allows internal stakeholders to focus on the basics.
What things are most often beyond the ability of the modest school to manage themselves effectively?
Andrea: We've already talked about the challenges of creating world-class learning, but the other things that are most often outside the capacity of internal teams center around marketing and recruiting efforts. These "frontline" student attraction, enrollment, and retention activities are fields that are almost constantly changing, and just keeping up with the latest best practices and technologies can be a full-time job.
Digital marketing platforms recede and go away, SEO tactics stop working, Google algorithms change, and the cost of being digitally "seen" continues to rise. A lot of institutions just don't have tremendous capacity in their marketing teams (or, frankly, expertise in non-traditional populations), so they really benefit from an outside partner who can help them in these areas.
Expectations of "leadership speed" from adult/online learners today are often beyond the capabilities of small internal teams. A typical student expects a personal response within minutes and no less than two hours. Things like chatbots, video responses, emails or callbacks have gone from a "nice to do" to a "must do" in a very short period of time, and many institutions are not currently equipped for this kind of thing. responsiveness. A partner can help you with this and probably do these things cheaper than you can build them in-house.
And then, finally, a piece of student success – educating students along the way. When I look at institutional strategic plans, many include student retention goals as one way to increase graduation rates. How are you doing it? Through student success and persistence through retention. However, many institutions do not have formalized ways of engaging students throughout their life cycle. They may have individuals in the department to reach out, but it's inconsistent and so the student experience is compromised. There are great partners available today who can help institutions accelerate and improve a strategic, thoughtful and consistent approach across their online programs, underpinned by technologies that enhance the student experience but are difficult to build from scratch.
RNL designs partner solutions that help institutions scale their online programs using the building blocks they have and fill gaps as needed. Contact us today for a free consultation and we can set up a time to talk about how we can help you.
Transform your success with graduate and online registration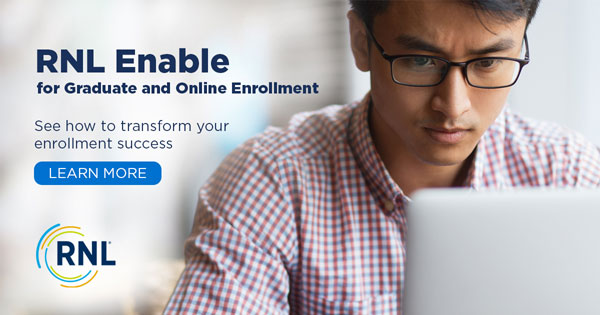 Find out how RNL Enable can support your graduates and online enrollments throughout the student lifecycle:
Strategy and market research
Learning and learning
Lead generation and conversion
Student Success and Completion
FIND OUT MORE