Read about the latest industry trends and technologies
The eLearning Industry publishes articles every day that represent a diverse range of voices, backgrounds and experiences. You'll find topics that cover the entire L&D spectrum, from microlearning best practices to VR implementation tips. Today we're highlighting some of the outstanding guest articles from February 2023. Here are the best guest posts published on eLI last month, in no particular order.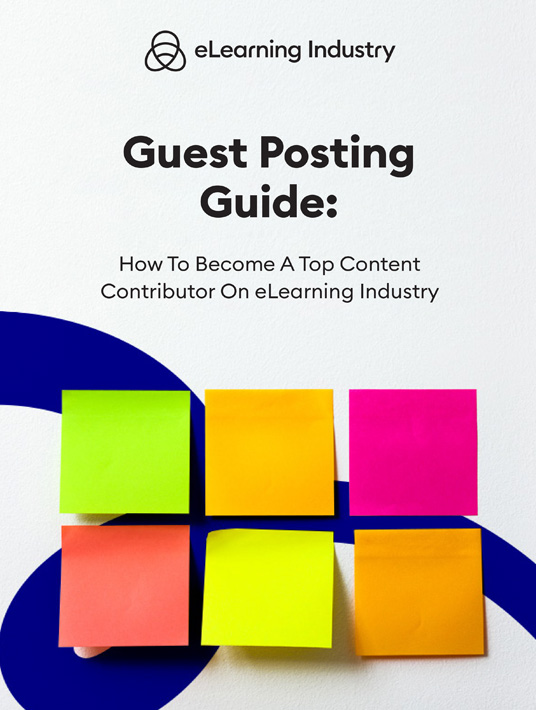 Publication of an electronic book
Guest Posting Guide: How to Become a Top Content Contributor in the E-Learning Industry
Discover what you get from guest blogging and the basics of writing a guest post for the eLearning Industry.
Top 5 Guest Posts to Explore eLearning Statistics
1. Three eLearning Storyboard Essentials Olivia Kippax Jones
Did you know that a great eLearning script can save you time and money? In this article, Olivia Kippax Jones covers basic scenarios, including interactive assessments and links to learning objectives.
2. Gamification vs. Player Types: Bartle's Taxonomy Revisited by Katarzyna Kowalik
Sometimes gamification just doesn't work, and while there may be many different explanations, it's worth considering how well the chosen gamification mechanics appeal to the types of players who take our course. Katarzyna Kowalik explores gamer types, gamification tips and more in this insightful read.
3. Harnessing the Power of Data to Drive High Impact Learning Experiences Robin T. Greene-Harper
Data-driven instructional design is a process educators use to create engaging learning experiences by understanding students' existing knowledge, providing opportunities for practice, and using formative and summative assessments to track progress and deliver tailored instruction. Robin T. Greene-Harper highlights how to use data-driven design to improve learning outcomes.
4. Challenges and Opportunities Leading to Systemic Change in Higher Education Joseph Evanick
Leading system-wide change in higher education can be difficult. Joseph Evanick explains the challenges and opportunities of this initiative, from building productive relationships to making the most of data.
5. Devin Partida enables employee connectivity between remote teams
Remote employees sometimes feel disconnected from their team. Devin Partida explores how to increase employee connectedness and keep remote teams connected using collaboration tools, video conferencing, and more.
Would you like to be featured in our next guest author showcase?
Congratulations to all of the featured guest authors this month! Each month we'll be featuring our best guest writers in our Guest Post Showcase. If you would like to be considered for our next list, please submit your article to gain thought leadership and connect with our eLearning community.
You can also subscribe to our guest author newsletter for tips, hot topics and exclusive promotional opportunities.