North Carolina behind in educational attainment goal; It calls for more support for students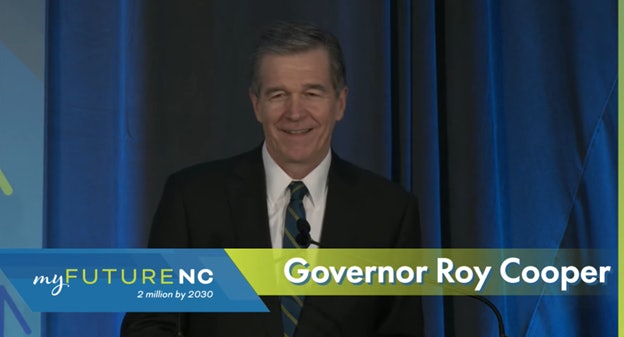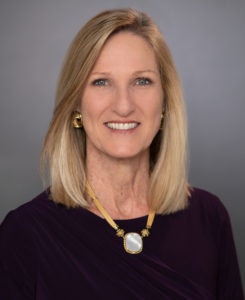 Brianna Allen's mother dropped out of high school at 16. Knowing the impact that decision had on her mother, Allen said she vowed not to make the same choice herself. But in her freshman year of high school, a spring break trip to the lake ended in tragedy with the drowning of one of her close friends.
"As a 17-year-old, I thought I had it all figured out. But you never know what you don't know until you go through something that turns your whole world upside down," Allen said. "After his death, I couldn't cope properly. As a result, I decided to drop out of school."
But in 2016, Allen decided to go back to school and finish her education. After earning her high school diploma, she received the Longleaf Commitment Scholarship, the last dollar scholarship created by North Carolina Governor Roy Cooper through federal funding for pandemic relief. With these funds, she was able to enroll at Blue Ridge Community College as a human service technology student, graduating this past May.
"For many people, getting a scholarship can be a piece of cake. Community college may be more affordable, but it may be out of reach for some people," Allen said. "Adult students, a lot of us live paycheck to paycheck. I was happy that I got the scholarship, that I could fulfill my dreams and achieve my goals."
Allen will be the first person in her family to graduate, and North Carolina educators, leaders and policymakers are working hard to make sure more adult students like her and high school graduates follow in her footsteps. MyFutureNC, a statewide nonprofit led by cross-cutting collaboration, has set a goal of two million North Carolinians ages 25 to 44 achieving an industry-valued diploma or postsecondary degree by 2030. Two years after this goal was first established, myFutureNC Board Members, state senators and representatives, education leaders and Governor Cooper came together to share the state's progress.
"We are currently 31,000 skilled workers short of where we needed to be to meet [goal,]" said Cecilia Holden, President and CEO of myFutureNC. "We are facing an emergency around our talent pipeline."
Holden introduced two legislative proposals to get the state back on track: establishing intentional career planning for every high school student in North Carolina and creating Economic Empowerment and Investments (RAISE) scholarships to create more low-cost pathways to qualifications and titles.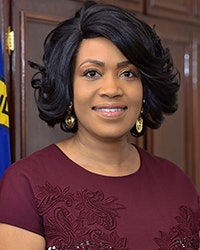 "[Reaching the goal] will require laser focus. We have to keep students on track and we also have to increase college enrollment," Holden said. "To meet workforce demands, we need to increase the number of people enrolling in our degree programs as well as our non-degree programs. But almost two out of three adult prospective students identified price as the main barrier to enrolment."
North Carolina Secretary of Commerce Machelle Sanders urged leaders to look at the whole student when considering what might be holding them back from success, especially when it comes to low-income students.
"It is difficult for a student or child to go to school and be successful—perhaps impossible—if [they are] hungry," Sanders said. "It's important to us to reach the whole person, the whole student, make sure people feel safe and address situations of poverty, mental health or inadequate health care."
Echoing Sanders, Governor Cooper called for deeper investment in early childhood education and measures to support students throughout their educational journey, "from cradle to career."
"We have to keep working on it. We all agree that this is critical. We all believe that education is a great equalizer, providing opportunity for everyone and helping my mission for our state: to have a North Carolina where people are better educated, healthier, have more money in their pockets and opportunities to live purposeful and abundant lives," said Cooper . "We have to be ready to invest in education."
Eric Davis, chairman of the North Carolina State Board of Education, called for an openness to new ideas and a willingness to change, as well as increased support for teachers in K-12 and beyond.
"We must transform our education systems to serve all of our students and give every student access to highly effective educators," Davis said. "Students need exposure to career opportunities that spark their interests and allow them to see their potential. We have to show how much we believe in them before they believe in themselves."
Holden added that this effort will require the cooperation of all sectors, not just education and politics. She asked those in attendance to find just one person and encourage them to go back to school or dream of a bigger and brighter future.
"Be the encouragement they need to see one by one these sparks light a fire throughout the great state of North Carolina," Holden said. "How do we get to two million? One student at a time."
Liann Herder can be reached at lherder@diverseeducation.com.