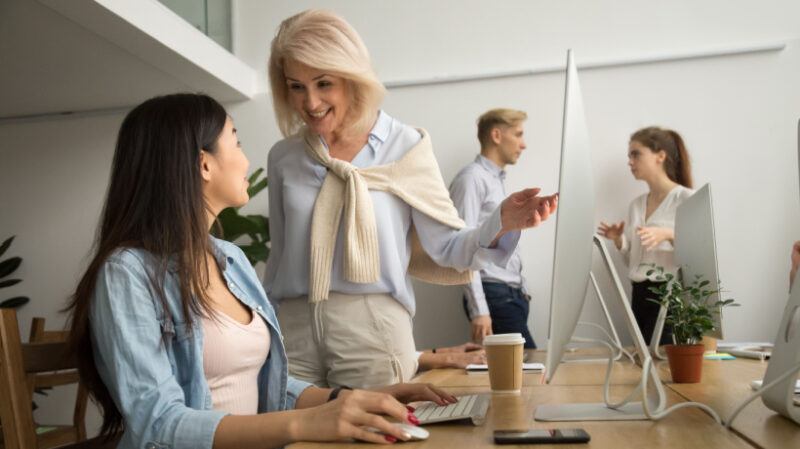 Benefits and strategies for starting your own mentoring program
Mentoring programs are essential for transferring skills and knowledge from seasoned team members to new additions to the company. Developing and utilizing an effective mentoring initiative can help your employees reach their full potential and exceed your company's expectations as well as their own. Discover the value of starting a mentoring program and how to start planning one below.
The importance of mentoring programs
Are your employees using their full potential? Each member of your team has strengths and areas for improvement. So why not train your employees using your own resources? Mentoring programs are ideal for identifying an employee's challenging areas and working together to address deficiencies. It is a company-wide initiative that requires investment in the well-being, satisfaction and development of your employees. Not to mention, successful mentor-mentee partnerships can extend beyond the workplace, creating influential relationships that influence entire career trajectories.
Benefits of starting a mentoring program
Whether you want to increase employee engagement or increase productivity, creating a mentoring program is the way to go. Here are a few of the many benefits to starting your own company-wide mentoring initiative.
1. Employee involvement
If your employees feel out of touch with the company's goals or their responsibilities and tasks, then there's a good chance they won't be engaged. Mentoring programs can remedy low engagement rates by encouraging company-wide participation and collaboration. Even if some of your employees are doing the bare minimum to stay in your employ, a mentoring initiative may be just what they need to get them going again.
2. Leadership development
Mentoring programs offer benefits both ways. For experienced members, mentoring provides valuable leadership experience as they must redefine their position on the team. Through initiatives like this, they are able to provide their unique perspectives and also positively influence new minds who want to follow in their footsteps. They also play a key role in identifying and shaping the next generation of leaders. Through a mentoring initiative, internal experts and experienced employees can help redefine what good leadership means to your company and embody all of its positive aspects to set an example for less experienced employees.
3. Retention
Companies that implement mentoring strategies excel at maintaining their corporate culture and achieve higher levels of employee satisfaction. Use your mentoring initiatives to show your employees that their organization is investing in their personal and professional development. In addition, establishing successful mentoring partnerships allows all of your employees to benefit from learning by offering or receiving guidance. This can have an impact on the successful completion of their tasks and can also help them stay productive and motivated, making your staff less prone to turnover.
4. Supporting different perspectives
Mentoring programs can help you make your workplace an inclusive environment that reflects the diversity of your team. You can clear the way for everyone in your workforce to have equal opportunities to offer mentorship or become a mentee. This can also be combined with leadership development initiatives, making them a stepping stone for some of your staff to build careers that reflect their aspirations.
Game plan
1. Define the goals
Clear goals help measure the integration of your mentoring program into your company culture, as well as its success. It also allows you to create a solid framework to build upon at the end of the planning process. Having a clear idea of ​​what you want to achieve with your mentoring program can help you select the necessary resources, create successful partnerships, and even get your employees involved in the planning phase of the process. Be sure to decide whether you want an on-site or online mentoring program so you can set the right goals for yourself.
2. Allocate resources
Mentoring resources can range from outsourcing experts who act as consultants for the entire initiative to purchasing specific software to help organize and track mentoring progress. Make sure you have a specific time frame in mind. For example, how long do you want your program to last and when do you expect the first results?
3. Find participants
Do you know enough about your team to understand the qualities they are looking for in a mentor? Can you identify the best mentors in your workforce? Learn more about your people, their strengths, challenges and what they want to gain from a mentoring initiative. Find out if they already have a role model in the company and try to create matches based on what you've learned. This is also a great time to establish any guidelines you have for your employees. In this way, everyone's well-being is ensured. Finally, have your people volunteer for each position and see which mentor or mentee better matches their personality and goals.
4. Collect feedback
It's time for a test drive. Set a time frame of a few weeks to see how everything works. Get feedback from both mentors and mentees to see which areas of the program are successful and which need improvement. Also, checking how your mentoring partnerships are doing can help you make better matches in the future.
Conclusion
If you want your company to have its own successful mentoring program but don't know where to start, you can start by setting some goals. There are plenty of resources to help you design initiatives that are right for your company and your people. You can even visit our online directory to discover the right partner to help you launch a successful strategy.