Texting with donors is a key tactic. It's the mode of communication most of us prefer, and it can be used for so many key elements of your donor outreach. That's why RNL offers unlimited, easy-to-use text services. These include mass text campaigns to support events such as donation days and P2P response text messages integrated into RNL Engage.
Here's why text messaging is the best communication channel you should be expanding as part of your donor engagement.
Fundraising is about relationships and you can write more than just requests
You've all heard the worst quote every fundraiser wants to hear: "You're only contacting me to ask for money." This is where texting can help you really grow your relationship with donors. You can use text messages, for example, to: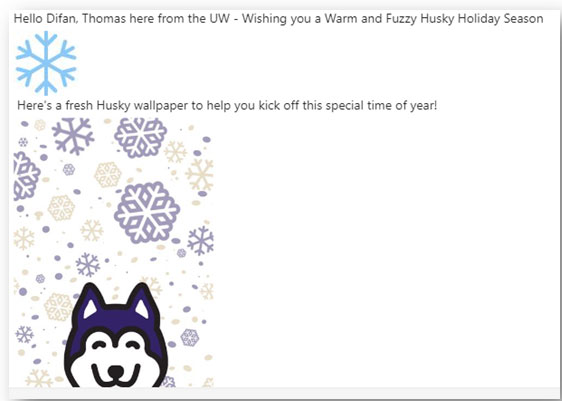 Ask donors questions, get feedback, and use the answers in content.
Share updates on key organization news, wins and celebrations.
Send "digital swag" as a phone background that puts you front and center as part of your donors' lifestyles.
It's more than just asking for money, and organizations that use text messaging to build rapport see immediate results and build goodwill for the future.
In the picture: The University of Washington ended the year with a great phone wallpaper featuring the beloved Harry the Husky.
Write to your donors to support time-sensitive efforts and spur action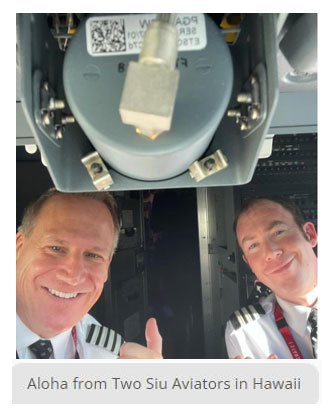 You should definitely text your donors on key events such as donor days, campaign launches, and even approaching crowdfunding campaign deadlines. You can text event attendees with things like venue updates and parking instructions.
You'll see responses, even from large text campaigns, that give you insight into how donors feel, and you can respond with everything from providing links to key resources such as alumni career services or volunteer opportunities.
In the picture: A Giving Tuesday warm-up/engagement text for over 20,100 Southern Illinois University – Carbondale alumni received this amazing response from two SIU pilots as they prepared to take off. Alumni sent a gift and even encouraged SIU to use the image in publicity.
Integrated text messaging increases the impact of your omnichannel reach
One of the key ways text messages can impact results is by integrating them into broader campaigns. This includes texting after a phone conversation (with a link to a mobile-friendly donation page) or when you can't reach the donor.
Organizations have also seen a massive response to sending text messages as a pledge reminder or at the end of an information campaign to contact people they couldn't reach. We are seeing a huge impact on donors who have received coordinated text messages, calls and video messages in 2022 to give 24 times faster compared to donors who were not involved.
On the slide: Text messages can generate an immediate positive response from donors, like these great examples at NYU.
Invest in a coordinated text messaging strategy and you should see immediate results in donor engagement
At RNL, we've advanced texting technology and have experts ready to help your team implement new strategies. We monitor texting rules daily and can help you overcome any internal resistance to this essential donor engagement tactic. It's time we all upped our texting game, and the RNL team is here to help. Contact us and we'll share the latest innovations and how you can immediately use text messaging to improve your results while providing a quality donor experience.
Talk to our fundraising experts
Let's talk about how you can increase donor engagement and strengthen your donor pipeline. Request a free consultation with our experts.
Schedule a consultation