Involvement of university students in the action steps of the satisfaction survey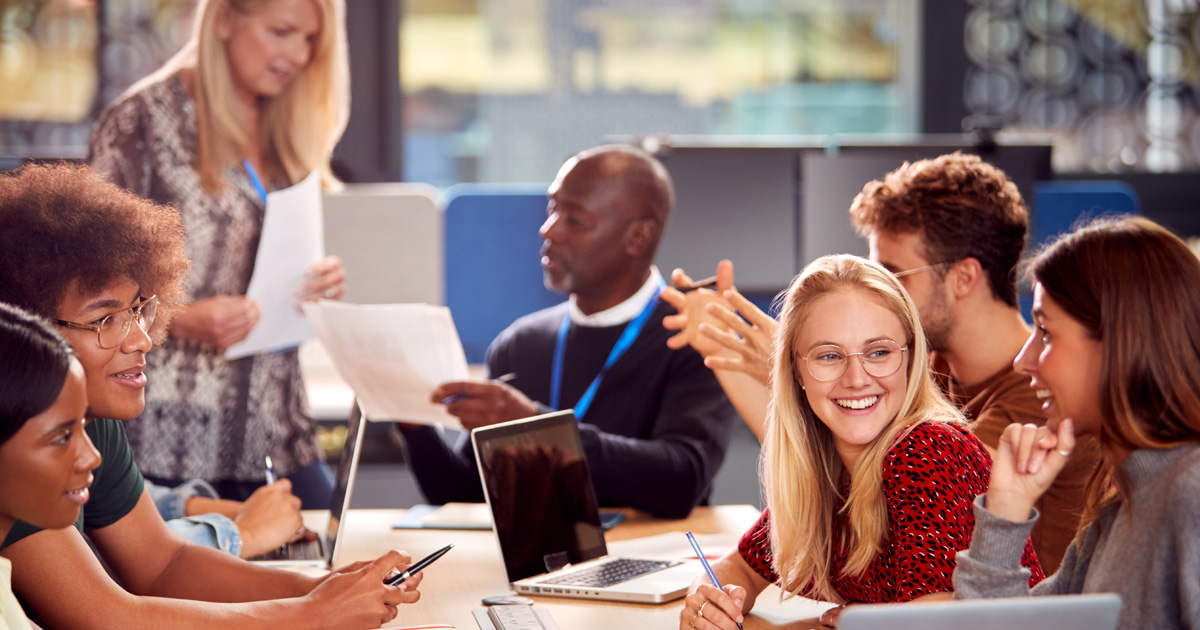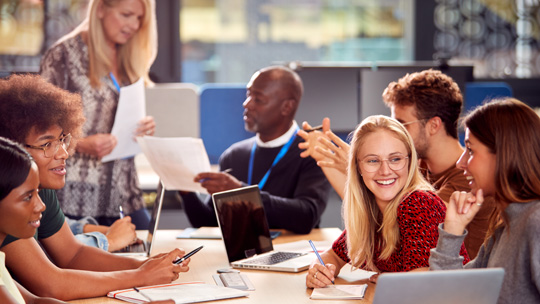 Collecting student satisfaction data through the administration of a survey such as the RNL Student Satisfaction Inventory (SSI) is a regular assessment activity for hundreds of colleges each year. Institutional research or student affairs determines whether fall or spring is the best time to survey students. The results are provided to the campus within weeks, clearly identifying areas of strength (areas that are very important to students and that have high student satisfaction) to celebrate, as well as challenges (high importance and low satisfaction) that need to be prioritized for improvement .
However, this is the part of the process where campuses often get stuck. They can see what students are interested in, but then wonder what will we do now?
Who better to turn to than students? With data that clearly identifies the priorities of the overall student population, you can conduct targeted conversations with students to get their ideas about policies or procedures that can be changed, resources that can be added, and areas where better communication can be beneficial.
In recent conversations with SSI client institutions, we heard about the following activities underway to better engage students in using satisfaction data for campus improvement.
Cornell College (Iowa): Having the data student government needs
Angie Bauman Power, director of institutional effectiveness, said Cornell's student senate came to her office and asked to conduct a student survey to gather data so the group would know what to work on. Angie said, "Actually, we already have data that you can use to inform your activities." She shared the latest SSI results with the student senate at the four-year private liberal arts college. They began to explore ways they could improve student perceptions using the SSI item "Being a student on this campus is a pleasant experience" along with several other items related to campus climate. The students were excited to have data that they could use to guide their activities, and Angie was happy to be involved in the work to improve the student experience.
Does your student government know that you have collected data and that you are willing to share it with them?
Madison Area Technical College (Wisconsin): Identifying pain points and initiatives to address them
At this large two-year public institution, leadership regularly works with the Student Senate to review data from their Student Satisfaction Inventory administrations. Zong Her, director of institutional research and data management, works closely with Madison College's survey administration every other year. She said the results were shared with the student senate and from the survey results, pain points are identified where senate members can target activities and lead initiatives to improve services and awareness for their fellow students. The data was valuable because it allowed students to take action and for the institution to see how student satisfaction informs improvement efforts year after year.
Is your student council empowered to implement initiatives to improve the student experience?
College of Saint Mary (Nebraska): Incorporating the Student Senate into the Assessment Process
Vice President for Academic Affairs Kimberly Allen said the College of Saint Mary, a four-year private institution in Nebraska, practices shared governance with students by incorporating a student senate into the management, control and use of data. She said it's important to elevate the student voice in decision-making. SSI data helps open the door to conversations that need to be had with students. They look forward to where the practice will take them. Kimberly shared that she intentionally teaches the entire data collection process to their students.
Are you listening to your students' voices captured in the data, in the open-ended comments, and in the follow-up conversations about the results?
Northeast Lakeview College (Texas): Brainstorming with students on improving the student experience
Director of Institutional Research Martin Fortner engages students in all steps of the satisfaction survey process at this two-year public institution near San Antonio. They have student ambassadors who encourage other students to complete the survey. Student leaders are at the table with campus leadership as the results are initially reviewed and possible next steps are discussed. And students are engaged in action subjects to enhance the overall student experience. Marty says student engagement and involvement is integral to the success of their administration of the biennial student satisfaction survey.
Do you involve your students in every step of the satisfaction assessment?
Free consultation to assess student satisfaction
Talk to our satisfaction experts about how you can easily implement a survey on your campus, including when is the best time to survey and how to achieve high completion rates.
Apply now
Additional strategies for engaging your students in assessment
Here are more ways campuses have shared with us that they are engaging students in the satisfaction survey process:
Ask students to be active on social media before and during the survey administration to build awareness and enthusiasm for completing the survey.
Invite the Student Government Association to partner with the administration in conducting a survey to make it look like students are asking students what matters to them.
Encourage students to be part of "listening sessions" by being visible outside of high-traffic areas (library, student center, etc.) and ask them to clarify what key items may be challenging for them, such as:

How can students be made to feel welcome on this campus?
What does "timely feedback" from faculty mean to you (how timely is it?)?
Who do you contact on this campus with questions or complaints?
When do you want to receive information about financial aid?
What does tuition pay mean to you?

Meet with student groups on campus (not just student government) to gather their ideas on ways the campus can improve the student experience with major challenges.
Create a student group to work with the institution on next steps with the data. These may be students majoring in related fields, such as psychology or data analysis, who could benefit from the experiential learning aspect associated with the analysis and next steps.
Let students be the "face" of the improvements you make by sharing what the school has done on social media. These students can help you confirm that you are listening to student feedback because you care about the student experience. Closing this feedback loop is essential to increase satisfaction levels.
We know from research that student satisfaction is positively associated with individual student retention, institutional graduation rates, and the provision of institutional graduates. Institutions that regularly assess student satisfaction with RNL tools also have higher graduation rates than comparable non-client institutions. But often the difference-makers for institutions are those that do more than just measure student satisfaction. They are the ones who take it to the next level by doing something different based on the feedback and guidance provided by their students, both in the survey and in follow-up activities.
What do you do with student satisfaction survey results? Let us know.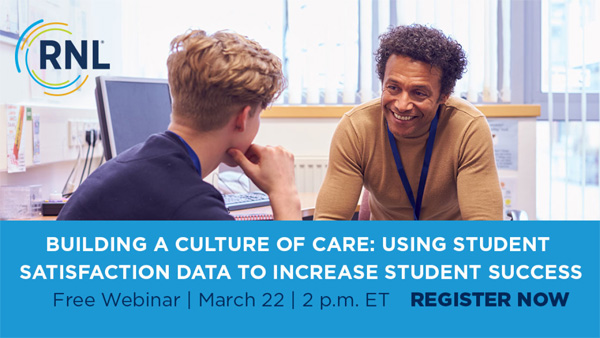 And if you don't regularly assess student satisfaction and are considering how you might start a new initiative, let us know too. My colleague Shannon Cook and I are happy to help.
You can also learn more in our webinar Building a Culture of Caring: Using Student Satisfaction Data to Increase Student Success. Marty Fortner and Brandi Solar of Northeast Lakeview College will discuss the steps their institution has taken to use its satisfaction data to improve quality of life and learning.