Student-centered colleges and universities have long prioritized student success, but in recent years there has been more buzz around student retention and success. Institutions are realizing that with the looming "demographic cliff" they cannot rely solely on improved recruitment to maintain stable or growing enrollments. As the pool of traditional college-bound high school students flattens and shrinks, higher education leaders are working to be more intentional about retaining the students they have.
Fiscal perspective and mission perspective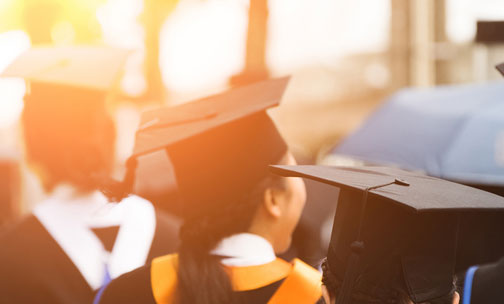 Student success is important for two reasons. First, from a fiscal perspective, colleges and universities invest a lot of money in attracting and recruiting new students. While important, it is definitely a cost-effective strategy to intentionally retain these students once you get them on campus. This allows the institution to protect those tuition dollars, especially when so many university budgets are based on tuition. If we're thinking about bringing students in with the admissions door in the front door, we want to be sure we've closed the back door as well so they stay until they successfully graduate.
This is the mission perspective of why student success matters. Colleges and universities exist to educate students and guide them to successfully complete their educational goal. In order to do this, we need to keep students enrolled. Relatedly, high retention and graduation rates will help attract new students to the college. Graduates of the school will refer future students, and successful graduates will also be your future graduates who have the potential to give back to the college financially. So it's really a chicken-and-egg situation, with strong student retention leading to strong student recruitment, which then potentially leads back to strong student retention—all of which increases the fiscal health of the institution.
This shows that college completion is not only essential to the mission of higher education, but is becoming critical to the survival of colleges and universities. As the traditional student pool flattens, campuses cannot afford to lose students. Additionally, students who withdraw lose their investment in college and especially the lifelong benefits of earning a college degree. This is especially true for first-generation students and students from lower socioeconomic backgrounds, whose degrees and the opportunities that come with them help them achieve greater economic success and social mobility. Graduating from college is good for students in general and for our culture and economy. On the institutional side, there is an increase in institutions that were forced to close because they did not have a sustainable number of students. Colleges and universities therefore have a number of incentives to invest in guiding more students to graduate.
Cost-Effective Ways to Impact Student Success #1: Motivational Assessment
As institutions look for cost-effective ways to improve student success and graduation rates, RNL recently conducted a study to see if our partner institutions are seeing a positive impact on their graduation rates. The answer is yes.
A motivational assessment is a way to collect data from incoming students when they first enter your institution, either during orientation or as part of their first year. This data provides valuable information for building relationships with advisors and connecting students with resources that will set them up for success during their first semester as they make decisions to stay or leave. RNL offers the College Student Inventory™, part of the Retention Management System (RMS), to collect this information from first-year students. From our benchmarking reports, we already know that institutions use motivational surveys and find them effective across institution types: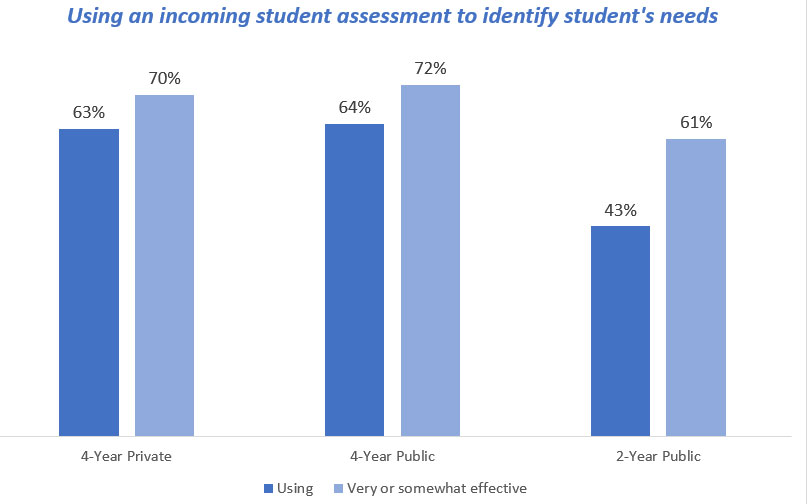 Now, after reviewing IPEDS data for partner institutions compared to comparable non-client institutions (based on enrollment size and country region), we can see that institutions assessing student motivation using the Retention Management System Undergraduate Student Inventory (identified here as RMS clients) have better four-year graduation rate than non-clients, across all types of institutions.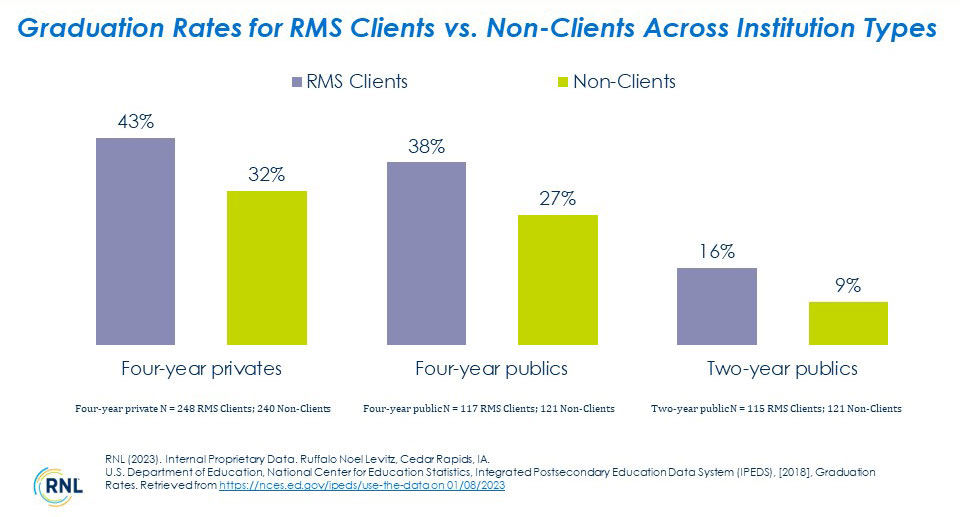 The potential impact is even clearer when we look at four-year private and public institutions by enrollment size, with smaller institutions seeing the greatest improvement in graduation rates when using student ratings: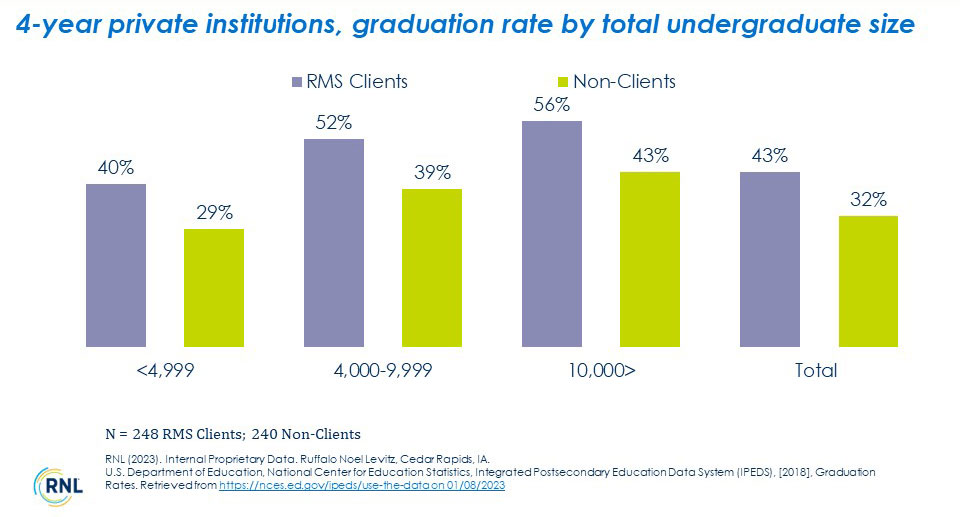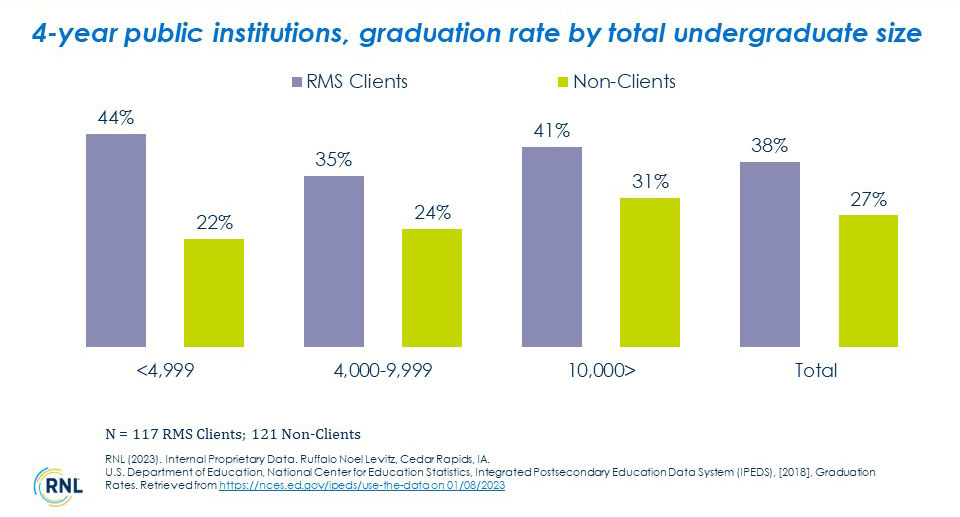 Keep your students, keep your campus
Learn how you can help more students overcome the academic, financial, and emotional pressures that can lead them to drop out of college. Join us for this webinar to learn about a unique new solution that is strategic, data-driven, and serves the whole student.
Learn more and register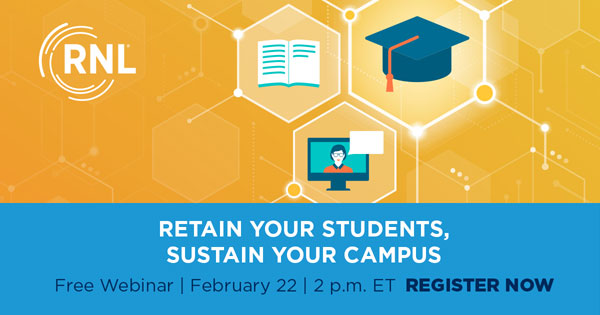 Cost-Effective Ways to Impact Student Success #2: Satisfaction Assessments
Student satisfaction assessments provide an opportunity to obtain feedback from students at all grade levels provided by the institution. These surveys are conducted in either the fall or spring semester and provide a valuable picture of what is important to students and where the institution is doing well (institutional strengths) and where there is room for improvement (institutional challenges). Breaking down the data by grade level or by programs/majors can further clarify where action is needed. RNL offers the Student Satisfaction Inventory™ for traditional students along with surveys for non-traditional populations in the Satisfaction-Priority Surveys (SPS) to collect this student feedback.
RNL retention benchmarking reports also document that institutions use satisfaction ratings and find them effective across institution types: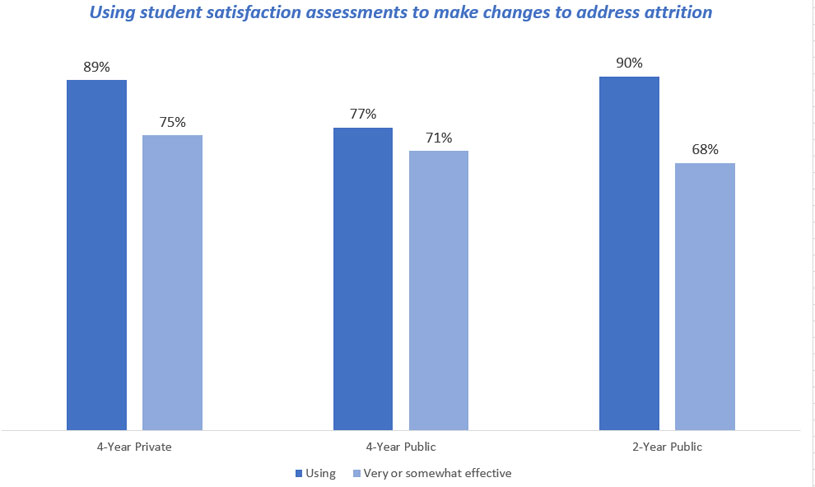 Again, similar to the analysis that was done reviewing IPEDS data for partner institutions compared to comparable non-client institutions (based on enrollment size and country region), we can see that institutions assessing student satisfaction with the Student Satisfaction Inventory from the Satisfaction Priority Surveys RNLs (referred to here as SPS clients) also have better four-year graduation rates than non-clients, across all institution types: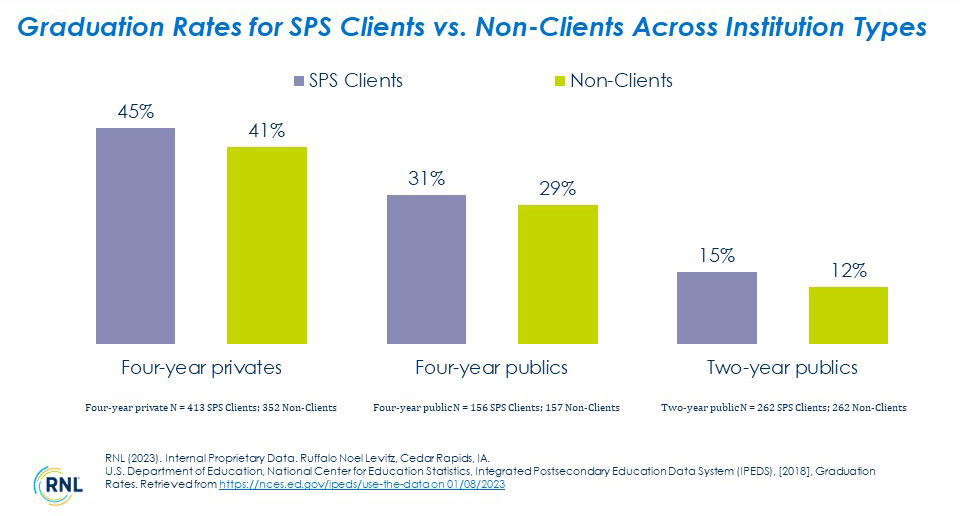 As with the RMS comparison, we also see larger effects based on institution size for four-year private and public institutions: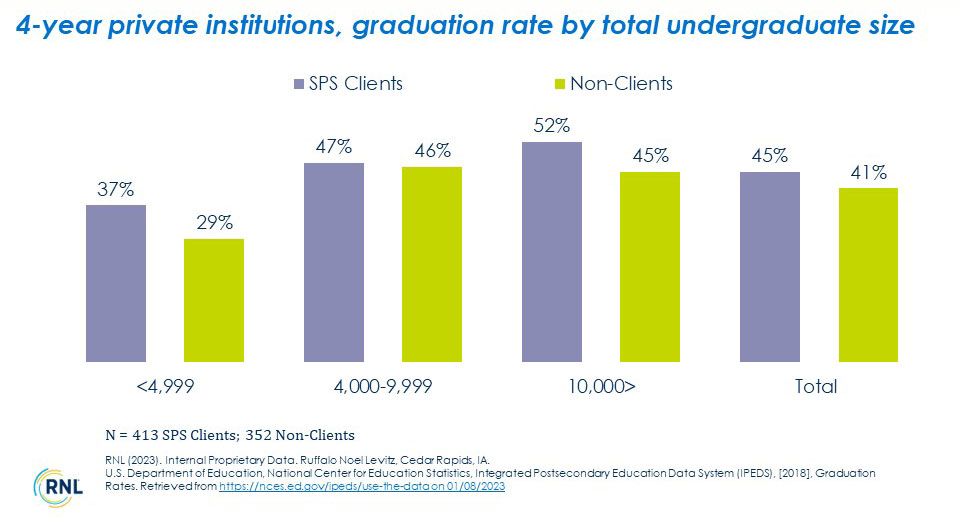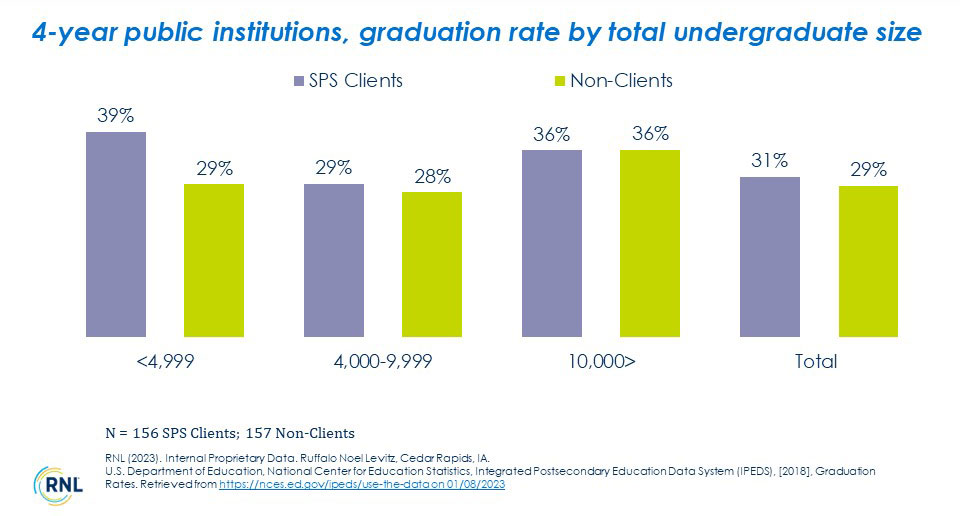 It depends on what you do in college
Keep in mind that evaluating students and simply collecting data is not enough to improve graduation rates. You have to be willing to act on what the data tells you. You must provide tutoring and career services for incoming students; you must provide opportunities for students to connect and engage on campus; and you need to be proactive in helping them navigate your systems. For the population as a whole, you must be willing to make improvements in areas of interest to your students; you have to offer the classes they need, when they need them; you must communicate effectively about financial aid; and you must create a campus environment that is welcoming and student-centered.
Using data to guide your actions and inform your priorities will put you in the best position to improve year-over-year retention and ultimately graduation rates, for overall student and institutional success.
See how you can increase student success and strengthen institutional stability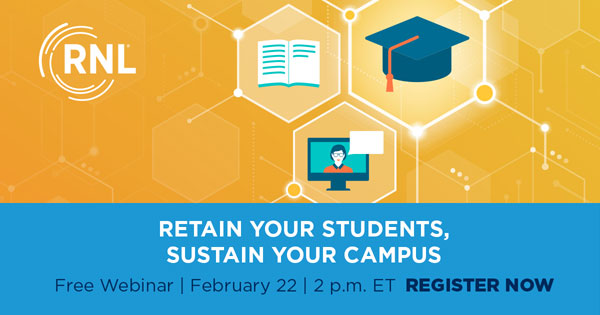 My colleagues Sherri Erkel, Kim Myrick, and I will discuss a new approach to increasing student success in our Retain Your Students, Sustain Your Campus webinar. During this 30-minute presentation, we'll look at the assessments I mentioned, along with predictive modeling of student success and the growing need to support student mental health and fitness.
I encourage you to attend the webinar (or sign up for on-demand access if you can't attend). It's a critical topic and will illuminate how you can strengthen both student success and the long-term health of your institution. You can learn more and register.