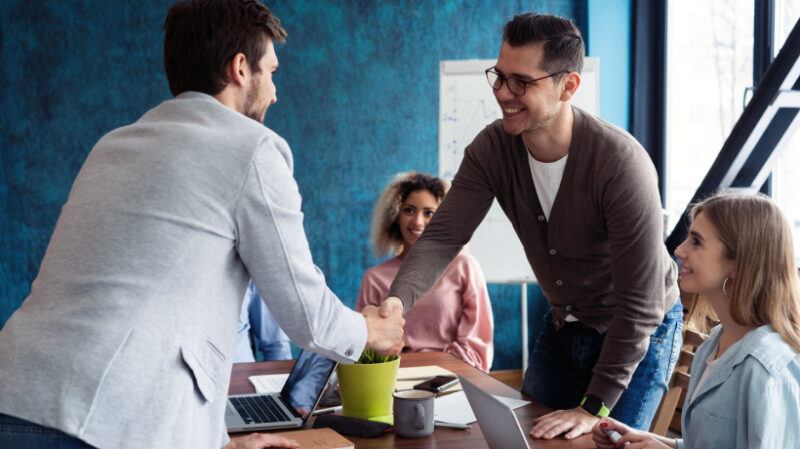 Can blended learning help your employees adapt?
For some companies, it's time to go back to the office, but how can you help your employees adapt faster? The transition can be difficult for those who have decided to work from the office again. However, blended learning can help them by facilitating their return to the workplace. Let's take a look at some blended learning practices that can benefit your new and seasoned employees so they are better prepared to handle everyday challenges.
5 blended learning practices for transitioning back to the office
1. Online training with offline practice
The most common way to incorporate blended learning is through online training that requires offline practice. Offer your employees online lessons to familiarize them with company policies, procedures or specific work tasks. Then encourage them to come into the office to practice what they've learned to see what they've mastered and what needs more training. This approach offers flexibility as they can learn at their own pace. At the same time, practicing the training offline with hands-on exercises offers them instant feedback and improves knowledge retention.
2. Hybrid workshops
Hybrid workshops combine both in-person and virtual elements. They give employees the opportunity to connect with their co-workers as well as participate in experiential learning activities. In addition, they can be accessible to those who work from home and those who have decided to return to the office, which means that no one is excluded. Question and answer sessions and step-by-step task demonstrations are also great ways to incorporate workshops into your training program.
3. Online coaching
Employees returning to the workplace will need additional support, regardless of how emotionally or mentally prepared they are. To make this easier, you can pair employees returning to the office with mentors or coaches who can hold one-on-one meetings. They can discuss their anxieties and fears about this transition back to the office and ease any doubts they may have. Once they start hybrid work, you can repeat these meetings in person. The whole process will help them feel more valued while also helping them adjust to any significant changes that occur along the way.
4. Mixed onboarding
Existing employees should already know the company culture, policies and procedures. However, your newest team members need to be nurtured, and that's no easy task in the midst of transitioning back to the office. You may consider arranging personal tours of the office and meeting with co-workers. Blended onboarding will provide your new employees with all the information and training they need to minimize the time it takes them to navigate their new role.
5. Personal meetings
Schedule regular face-to-face check-ins with employees before they start working in the office. They are free to address any concerns about company matters, giving you a chance to suggest solutions and remove any obstacles that might cause unnecessary stress when they return. These feedback meetings also allow you to share your expectations for their return to the office to open the lines of communication and improve their performance from day one.
What features should your blended learning LMS have for the transition back to the office?
Lesson management
Learning management systems for blended learning should give you the ability to easily organize content and create courses. The system should also support multiple formats such as videos, audio, PDF files, presentations, etc. to suit different needs and preferences.
Tools for social learning
Social learning tools allow your employees to share what they've learned and communicate with coworkers instantly. Their colleagues are a valuable source of support as they transition from remote work to hybrid or on-site work, and collaboration is key as they navigate the new normal in the professional environment.
Integration with other platforms
Your blended learning program needs to be seamless to avoid confusion and ensure your employees have immediate access to the tools they need. For example, you may need to incorporate webinars and meetings into your courses to better track their performance. Or maybe you need to use your current authoring tool to develop content and update it quickly. All of this requires an LMS that fits into your technology stack.
Reporting
Your LMS should collect and store user data to track the effectiveness of your blended learning initiatives. This will allow you to make changes based on their training performance and identify areas for improvement in terms of your L&D strategy.
Conclusion
The flexibility that results from a combination of online and offline methods caters to the needs of different employees. Using online training to prepare for real-world challenges allows employees to merge their previous online life with their soon-to-be offline life. In short, a well-rounded blended learning experience makes them more confident about their triumphant returns, so they are ready to tackle any challenges they encounter with minimal stress.
Check out our list of the best LMS solutions for blended learning, compare the best platforms, and find the learning management system that's right for your workforce.