To celebrate the release of our 2023 University Family Engagement Report, we hosted a webinar and were joined by an enthusiastic group of professionals who wholeheartedly answered our survey questions during the webinar (you can watch the webinar on demand here). This survey will offer you some of their responses alongside data points from the report. To learn more about the study, download the report here.
How do institutions engage families of college students?
We opened the webinar by asking participants how they engage the families of their current college students. Here are their answers:
80% virtual events for families
50% of social media (Facebook was mentioned in half of these responses)
40% direct mail
25% off campus events
25% family weekend
10% SMS
How do these responses compare to the families' expectations? Findings from our 2023 report (reflecting 21,860 responses from 35 different institutions across the US) show which channels families prefer to receive news from the colleges and universities where their students are enrolled.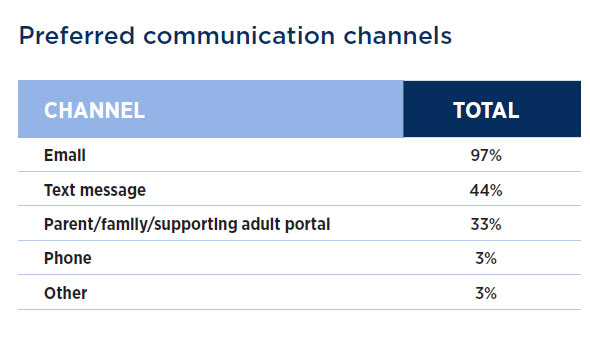 Who is more likely to prefer text messaging?
Hispanic families
First generation families
Family income less than $100,000
Families with students in the first two years of college
Families with students living at home
Who prefers a phone?
Black families
First generation families
Family income less than $60,000
Families with students living at home
Who is likely to prefer a family/parent portal?
Black families
Family income over $100,000
Families with first-year college students
Families with students living on campus
Families want to hear from you!
We also learned that 85 percent of families are prepared to hear from their students' colleges or universities at least once a week, a number that has steadily increased since 2020.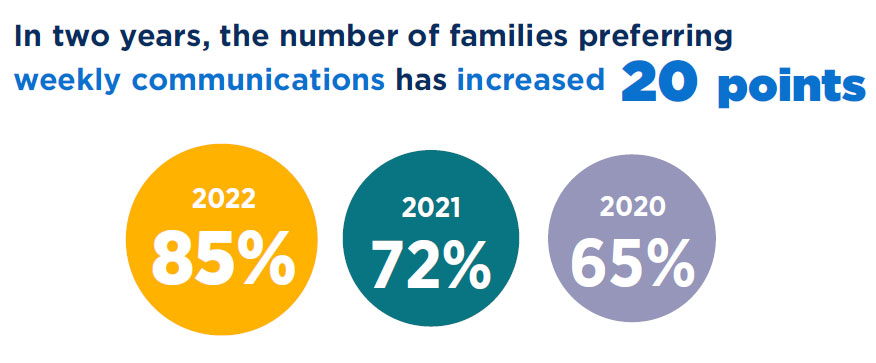 Three-quarters of all families surveyed were satisfied with their students' communication at college or university (although satisfaction varies slightly by subject, see our report for details)
Meeting the expectations of families: suggestions from our webinar participants
When we asked our webinar participants what institutions could do to make families happy with communications from universities, they had these ideas:
Ask families what they want to know, collect data, and test often.
Bilingual communication offer.
Communicate often.
Create spaces where families have easy access to view specific areas.
Identify needs and exceed expectations through personalized communication.
Offer evening virtual meetings to solve problems.
Make websites and communications easier to read.
Have a dedicated staff member to answer families' questions.
We all agree that families are an essential part of students' college planning experience (our Future Family Involvement Report offers details on how prospective families are involved). However, families also remain very involved once a student enrolls. In fact, we strongly believe (and our participants agreed!) that family involvement and family satisfaction are part of student success. We must try to continue to communicate frequently with families after enrollment.
We also understand that not all families are the same. However, their need for information remains a high priority and we are in charge and care of the most precious thing these families will ever have: their children! Love, care, and concern for their students (their children, no matter how they hold the students) unites families across income levels, education, race, ethnicity, and any other demographic. They want to know; Need to Know!
However, research shows us that first-generation families, low-income families, and in some cases, families of color may have different perceptions, satisfactions, and needs. It is important that institutions address these needs, and here are ways you can do so.
Read the full report to find out more
You can download the 2023 University Family Engagement Report to explore additional findings about family satisfaction with their students' college experience, college funding concerns, and other key issues. I also encourage you to watch our webinar to learn more about how you can involve your students' families.
Ultimately, the best thing you can do is make sure all families feel included, welcomed, and part of a larger community with one goal in mind – to provide the best education possible for your students!