We are finalizing our first survey for 2023, which talks about the rise of leaders. Prompted by the RNL Fundraising Advisory Committee and discussions we had with RNL partners, we launched a survey earlier this year to answer some of the key questions we were asked: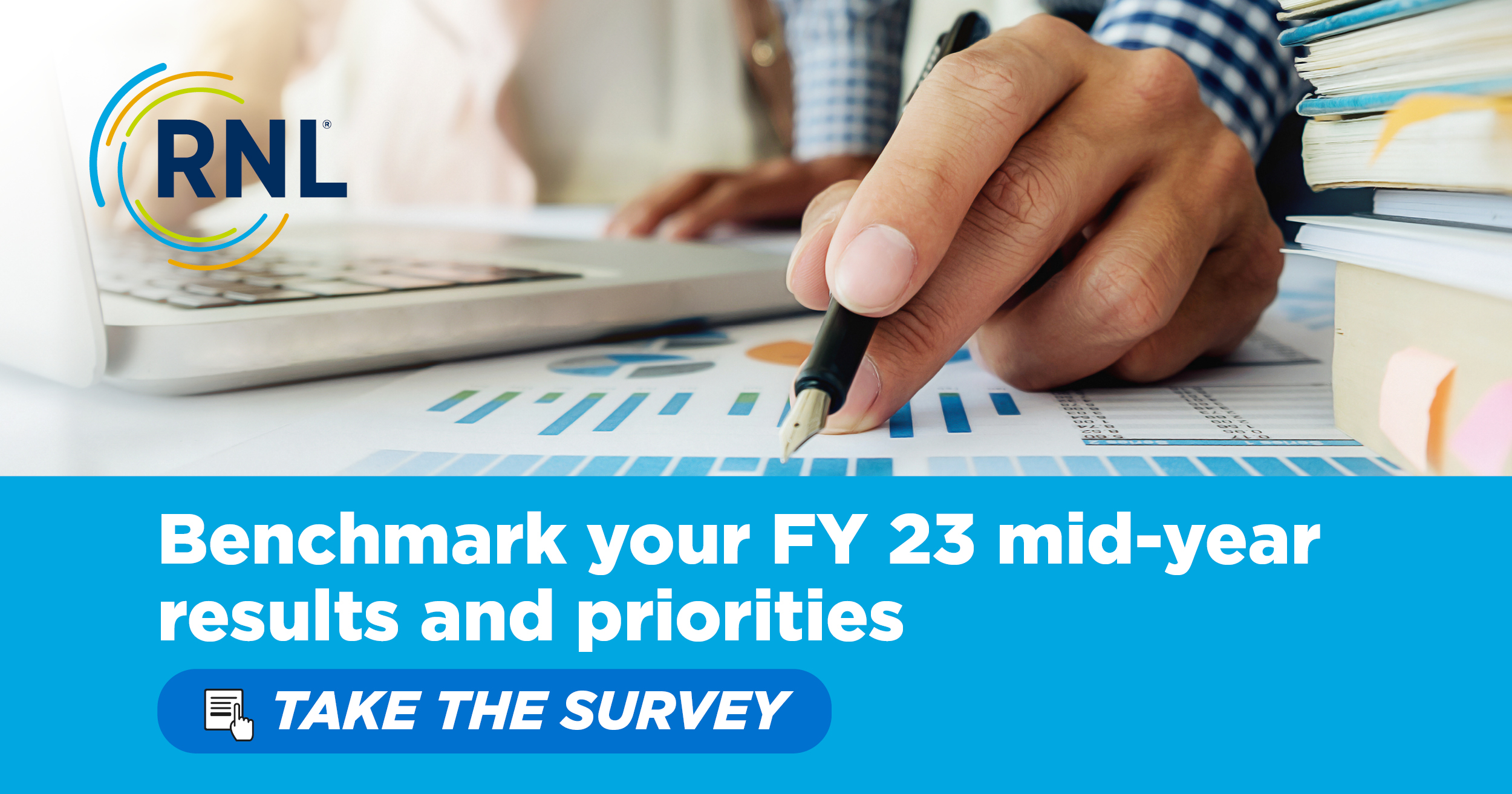 Are you up or down on gifts, dollarscompared to last January when you start to finish the fiscal year?
What influenced these resultsfrom key strategic shifts, changing events, the economy and competition from other causes?
What are they like your key FY23 prioritiesand do your priorities align with your leadership?
What is the most promising and the most challenging for fundraising next year?
I encourage you to jump in and add your insights to the seven-minute anonymous survey.
With an initial group of 82 institutions responding, we are ready to share some initial results. We will share the full results and our recommendations for donor engagement in FY23 in an upcoming webinar on February 9.
Donor growth is a priority for frontline fundraisers, but leadership is lagging behind in some key tactics
Many survey respondents reported direct responsibility for core fundraising metrics such as number of donors, total dollars and budget-busting support. Many are worried about these key metrics, but when we look at the specific factors that could affect it, fundraisers seem to indicate that management is less attuned to what might help.
Which of the following do you see as a high priority for you as a fundraiser, and which are a high priority for your organization's top management? (check all that apply)
| | | |
| --- | --- | --- |
| Goal/Strategy | A high priority for me | High priority for leadership |
| Increase the number of donors every year | 95% | 64% |
| Growing total annual giving dollars | 91% | 67% |
| A growing budget relieving or unlimited dollars | 71% | 78% |
| Growing alumni participation | 89% | 75% |
| Improving our communications across channels such as post, email and digital | 95% | 35% |
| Improving the donor experience | 93% | 50% |
| Making it easy to give | 97% | 29% |
| Recruitment/retention of key talent in our team | 66% | 75% |
| Providing gift officers with better tools to increase their efficiency/productivity | 53% | 65% |
For me, the most notable trend here is the response to the ease of donation and the experience with the donor. In a challenging economy, these are two things that deserve significant attention. Fundraisers agree, but don't necessarily feel supported by management.
Donors and dollars are under pressure on FY23 fundraising results
How does it look this year? This is a question that everyone asks themselves. I can tell from the first survey respondents that both donor numbers and dollars are not looking great at many institutions.
How are you doing in the current fiscal year with respect to key metrics?
| | | | |
| --- | --- | --- | --- |
| Category | An increase compared to this time last year | Roughly even compared to this time last year | A decrease compared to this time last year |
| Total Fundraising (all donations and pledges) | 35% | 23% | 42% |
| Total annual gift in dollars | 25% | 30% | 45% |
| Totally unlimited, budget easing dollars | 25% | 35% | 40% |
| Total number of donors | 19% | 21% | 60% |
| Total number of alumni donors (if any) | 17% | 26% | 57% |
| Alumni participation (if any) | 16% | 35% | 48% |
We also asked fundraisers what they thought contributed to this year's results and the economy, fundraiser/team turnover and competition from other charities all seemed to have a big influence.
There is still time to impact FY23 fundraising results
We will publish the full survey results first in our upcoming webinar and then here on the RNL blog. We're still gathering what fundraisers see as key challenges and what will impact results. I can tell you that the commonality is better coordination of development teams, better use of data and monitoring of underutilized channels.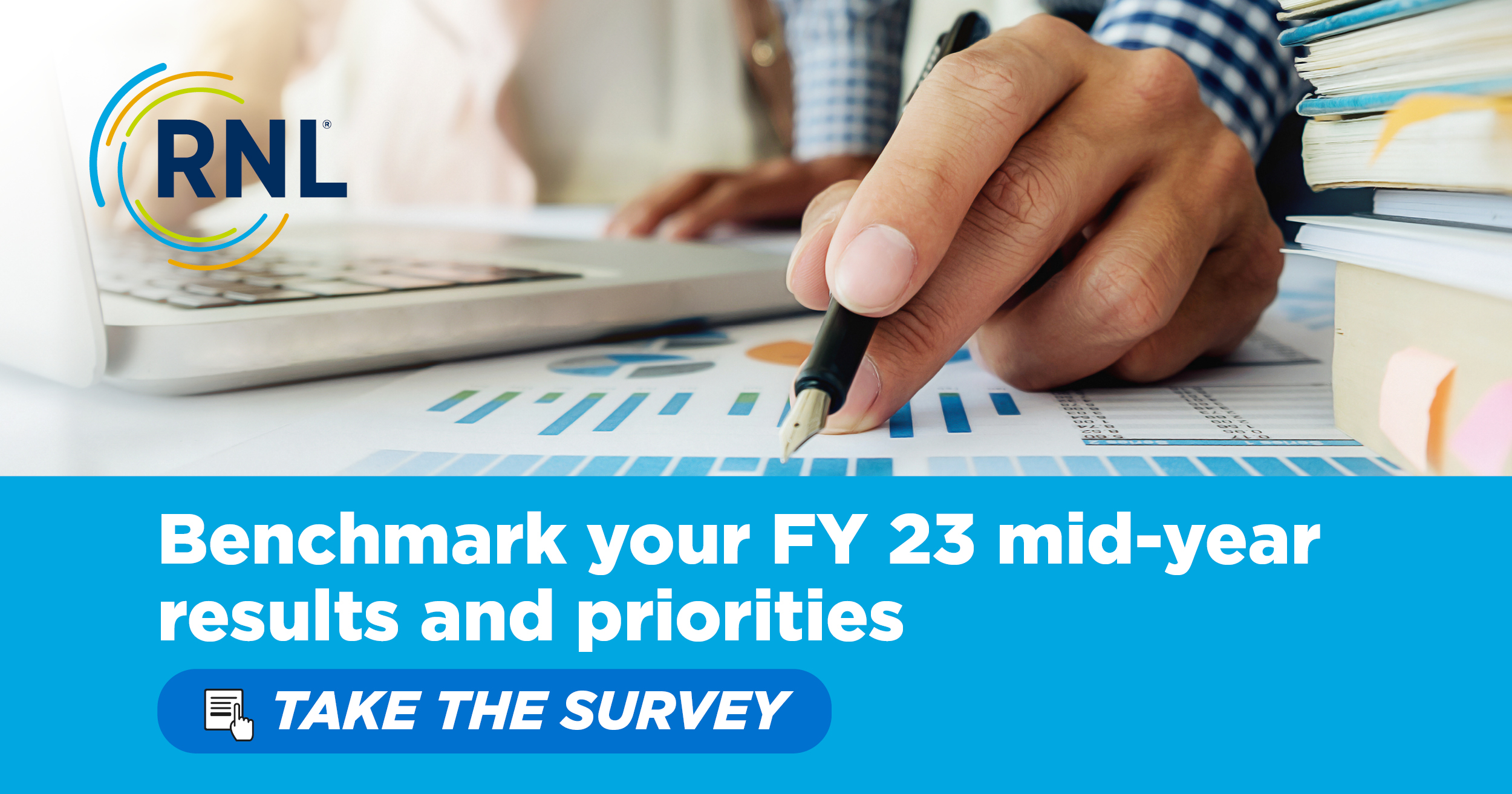 You still have time to impact your FY23 results through creativity and careful strategy. This can be achieved even when budgets are tight, and it's time to fundraise smarter with a focus on the donor experience. That's the key to sustainable impact-driven fundraising, a topic you'll be hearing from the RNL team repeatedly over the coming months.
Take the survey before it closes, and if you'd like to talk to people who have been in your shoes about the fundraising results right now, get in touch and we'll set up a time to talk. We've tapped into the pulse of hundreds of organizations and are ready to share a strategy that will work to make your year strong.