By Terah J. Stewart, Roshaunda L. Breeden, Joan N. Collier, Meg E. Evans, Daniel J. Scanlon, Rachel L. Wagner, Erin R. Weston
In a classic fairy tale Goldilocks and the Three Bears readers are introduced to a little girl who stumbles upon a cabin in the woods where she bravely invites herself in to explore. While there's a lot to learn and critique from the themes of her story, the part that stands out the most to our writing team is the deliberate focus on space and customization. Especially considering that the two chairs Goldilocks was trying to rest on were too big, but the third one was just right. A similar refrain occurs when Goldilocks tries to sleep in three different beds – again in a home she wasn't invited to – before discovering that one was too hard, the other too soft, but the last bed was perfect for her.
One of the takeaways from this story is the obvious but powerful statement that we don't all have the same body, and therefore we won't all travel through space or find the same things. Goldilocks' struggle to find a suitable place should not be surprising, since the cottage was not her home, so she should not have expected to find comfort in this space. Today we are writing to focus on the needs and experiences of fat students who sometimes struggle to find fit and space in an academic environment. Fat students, an often hyper(in)visible population, have experiences in classrooms and learning environments that range from unpleasant to violent.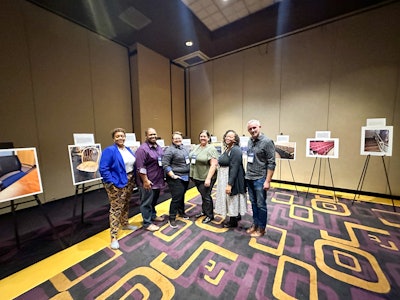 Scholars, activists, and practitioners use many terms (eg, fatphobia, sizeism, and fat-hate) when talking about the structural oppression faced by fat people. For our purposes, we rely on Aubrey Gordon's use of terms against fatness and fat bias. Gordon defines these terms as "attitudes, behaviors, and social systems that specifically marginalize, exclude, devalue, and oppress fat bodies. They refer to both individual bigoted beliefs and institutional policies designed to marginalize fat people." The nuances of this definition should be noted, with the main emphasis on institutions. While much of the fat studies literature focuses on what we describe as social experiences (bigoted beliefs), within higher education less attention has been paid to related systems and structures, including the spaces and environments of campuses.
As a group of scientists and researchers, we were interested in such a focus and founded the research project #FatOnCampus. In our work, we found that when fat students were given the opportunity to document their experiences, they overwhelmingly focused on how they didn't fit into the furniture, chairs, and classroom spaces in general. Fat students' experiences range from discomfort to stigma and physical pain, all while being expected to learn. These experiences are largely due to size structures that suggest there is a "normal body type" that most, if not all, people should fit into. One student described the difficulty of having to fit in a chair with an attached and non-adjustable desk by talking about the lack of back support and how squeezing into the chair cuts into the abdomen. Another student described a similar seating arrangement and how the seat "presses you against the table, it hurts (hurts).
In a 2018 article titled "About Fat Campus," students also expressed similar experiences.
For example, Rowena stated, "The constant physical discomfort of having to squeeze into too small a space was difficult and I suffered emotionally. I was frustrated because … all I wanted to do was attend my class and learn as other students." (Stewart, 2018, p. 32).
Until campus leaders can move to modify campus spaces and furniture to better meet the needs of fat students, we urge all faculty, teaching assistants, and student affairs professionals charged with creating educational experiences to consider how they might handle and help. move them for fat students. For example, consider using a student size policy for inclusion in curriculum or program guides/manuals that students can rely on to communicate comfortably about their physical needs in classrooms and learning experiences.
Dr. TJ Stewart of our writing team uses the following statement in his curriculum and in his work with students.
"Fat and Large Students | The reality is that many campus buildings and structures are either outdated and/or have classroom furniture or structures that are not friendly or appropriate for fat or large people. I always do what is in my strength." to mitigate these problems, but may not always be successful. Any time you find yourself experiencing discomfort (physical or otherwise), especially related to body size due to fatphobic, anti-fat, or size structures, please let me know immediately. I will work with you on solutions or accommodations including finding suitable furniture, requesting a change of class or other alternative – so that you have a better learning environment."
This statement does several different important things. First, it communicates to student educators an understanding of the systemic and structural nature of anti-fat bias. It also expresses the interest of pedagogues in supporting these students in their search for imperfect solutions to difficult problems. Finally, the statement helps hold educators accountable. It could be that the student never takes advantage of such a policy, but having that fact recognized and having some form of remedy available can make a big difference. Such a policy also alleviates some of the discomfort fat students may feel in needing to advocate for themselves, and may see such a policy as a call to dialogue and action.
The above negative experiences are not uncommon, and while fat students will continue to show up at their colleges and universities to continue their studies, they should be able to do so without physical pain or violence. In a perfect world, campuses would have designs with the needs of students with diverse bodies in mind. However, the reality is that issues of fatness are not currently understood as issues of equity or specifically of higher education in the world at large. That said, the prevailing paradigm around fat bodies is that fat people should simply change their bodies to fit. As a team, we want to be clear that our views are unequivocal: fat bodies deserve to exist as they are. Fat bodies on and off campus deserve access to everything that non-fat bodies have. As fat poet Rachel Wiley put it, "I don't owe you shrinking. I don't owe you thinness, attempted thinness, or desired thinness; because you assume thinness equals health. I don't owe you health (perceived or otherwise) to get basic respect . I deserve to be cared for. I deserve to exist, just like me."
Unlike Goldilocks, fat students should not be seen as intruders within higher education. They are not guests; fat students are part of our community and should fit in comfortably to fulfill their role as students. We invite you to join our efforts to support fat students in dynamic, meaningful and material ways.
To learn more about our work and get involved in the photovoice project, please visit fatoncampus.com