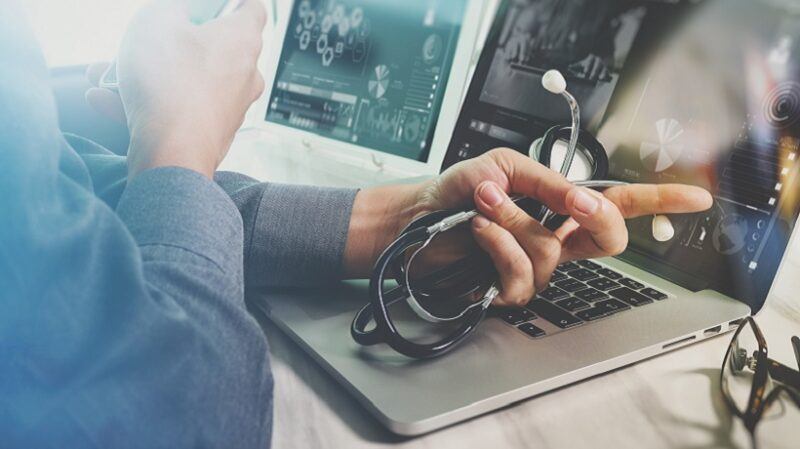 Benefits of eLearning for doctors
Since the COVID-19 pandemic [1], there has been a shift of almost 180 degrees. Although this may be an exaggerated statement, several changes in the methods of learning, working and interacting have been observed. Medical students and professionals have found new techniques to deal with their practices and make their work easier. The surprising fact is that all these changes are connected with modern technologies; modern technology has entered various fields hard and fast. New platforms have been created for advanced medical education. eLearning has turned into a regular exercise. As it has many advantages in terms of personalized learning, it serves the trainers and students very well. It allows students to change the pace and content according to their needs.
eLearning provides better access to information for students who prefer distance learning. It also minimizes costs in various areas. In addition, students can catch up with frequent content updates. Students of various levels have used the eLearning platform and concept to expand their horizons. Health professionals have also benefited from staying informed and improving their practice accordingly [2]. That is why eLearning is widely accepted. Moreover, it is associated with efficiency, comfort and adaptability. This training option is beneficial for healthcare professionals of all ages, education levels and status. Some of the benefits are explored below.
Benefits of eLearning for doctors
Countless content reviews
Traditional classroom teaching is slowly becoming obsolete. With online learning, healthcare professionals have access to unlimited content and can access it indefinitely. In case of any questions, they can use endless sources of knowledge. Sometimes professionals skim over a topic and forget important details. eLearning offers a solution to this problem.
Adaptability is beneficial for all healthcare professionals

A huge positive is the customizability provided by eLearning. Each doctor can use eLearning according to his needs. This can be through audio, video, webinars, worksheets or textbooks. WHO has found that the result of eLearning is as effective as traditional learning methods. Sometimes it is more effective than traditional learning methods. Physicians seeking continuing education and professional growth find online learning more beneficial. Additionally, they believe that it is easier to understand content online.
Increased productivity for physicians through eLearning

Physicians have taken their practice in different directions with services such as virtual medical assistants and medical billing and coding services. But eLearning increases their productivity in another way. eLearning helps them develop skills, gain certifications and knowledge, and get support to do something unique. It provides doctors with the missing element needed to achieve success. In order to be successful and competent, it is important to catch the pace and join the current trend or practice. Doctors should be aware of the latest technology and information in order to provide the best treatment to their patients.
The convenience of eLearning

Health workers have the busiest schedule. Combining effective procedures with new regulations and meeting patient expectations is not an easy task. Adding more to the hectic routine wouldn't be fair. This will likely result in more unmanageable tasks. eLearning gives doctors the flexibility to learn and complete courses according to their free time and energy. It will benefit them to get valuable information along with understanding and help them retain it in the best way.
Benefits extended to patients
Healthcare has its pros and cons. Yet the doctor has the honor of bringing about the improvement of countless lives. A doctor does not have the advantage of learning only for himself. Being up-to-date and well-informed about advances in medicine is reflected in the practice of a physician [3]. Experienced doctors have happier patients. In addition, courses offered by eLearning focus on person-centered practices (PCP). It teaches staff to prioritize the needs and requirements of their patients. Staff also master the skill of working for the well-being of their patients. This encourages physicians to use PCPs because they feel more connected to their work and patients.
Conclusion
COVID-19 has brought about huge changes in healthcare. However, modern technology has managed to extract several positives from the situation. The pandemic has forced professionals to shift their learning processes to an online medium. Let's just say the benefits are pretty obvious. Doctors found eLearning [4] a major contribution to the success of their practices and the healthcare industry. It's safe to believe that eLearning is here to stay and for good reason.
Reference:
[1] The covid-19 pandemic
[2] Medical Orders: Create Healthcare eLearning with TalentLMS
[3] 8 keys to success as a doctor in private practice
[4] E‐learning for health professionals