Dr. J. Luke Wood has been appointed to serve on the California Commission on Racial Justice, a committee on state Senate rules. The wood will serve for two years.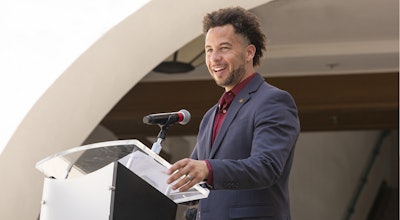 Wood is currently the Vice President of Student Affairs and Campus Diversity and Chief Diversity Officer (CDO) at San Diego State University (SDSU). In this role, he led the creation of new cultural centers such as the Asian Pacific Islander Desi American Resource Center (APIDA), the Latinx Resource Center, the Native Resource Center, and the Undocumented Resource Center.
He was previously co-director of the Community College Equity Assessment Lab (CCEAL); director of the joint Ph.D. educational program between SDSU and Claremont Graduate University; and Director of Ed.D. Program in Community College Leadership.
Joining Wood is Candis Bowles, an attorney in Southern California. The commission — created under the leadership of Gov. Gavin Newsom — is tasked with creating a Racial Equity Framework of resources to promote racial equity and address structural racism. The commission will recommend ways to promote racial equity and help state agencies update policies and procedures.
"Candis Bowles and Luke Wood are leaders in advancing racial equity and addressing structural racism in their respective fields, and their guidance will enrich the Racial Equity Commission's charter to provide advice to state agencies on racial equity," said Committee Chair Toni G. Atkins, Senate President. pro tempore. "Dr. Wood has dedicated his career to research and policy implementation aimed at promoting diversity and equity initiatives in schools, colleges and universities.
"Together, they will play a critical role in creating a racial equity framework that will address the structural and systemic racism that continues to exist in our state."
Wood holds a bachelor's degree in black history and politics and a master's degree in higher education from California State University Sacramento; and a master's degree in curriculum and instruction and a doctorate in educational leadership and policy studies from Arizona State University.