Black mental health was addressed during a symposium of the Black Research Institute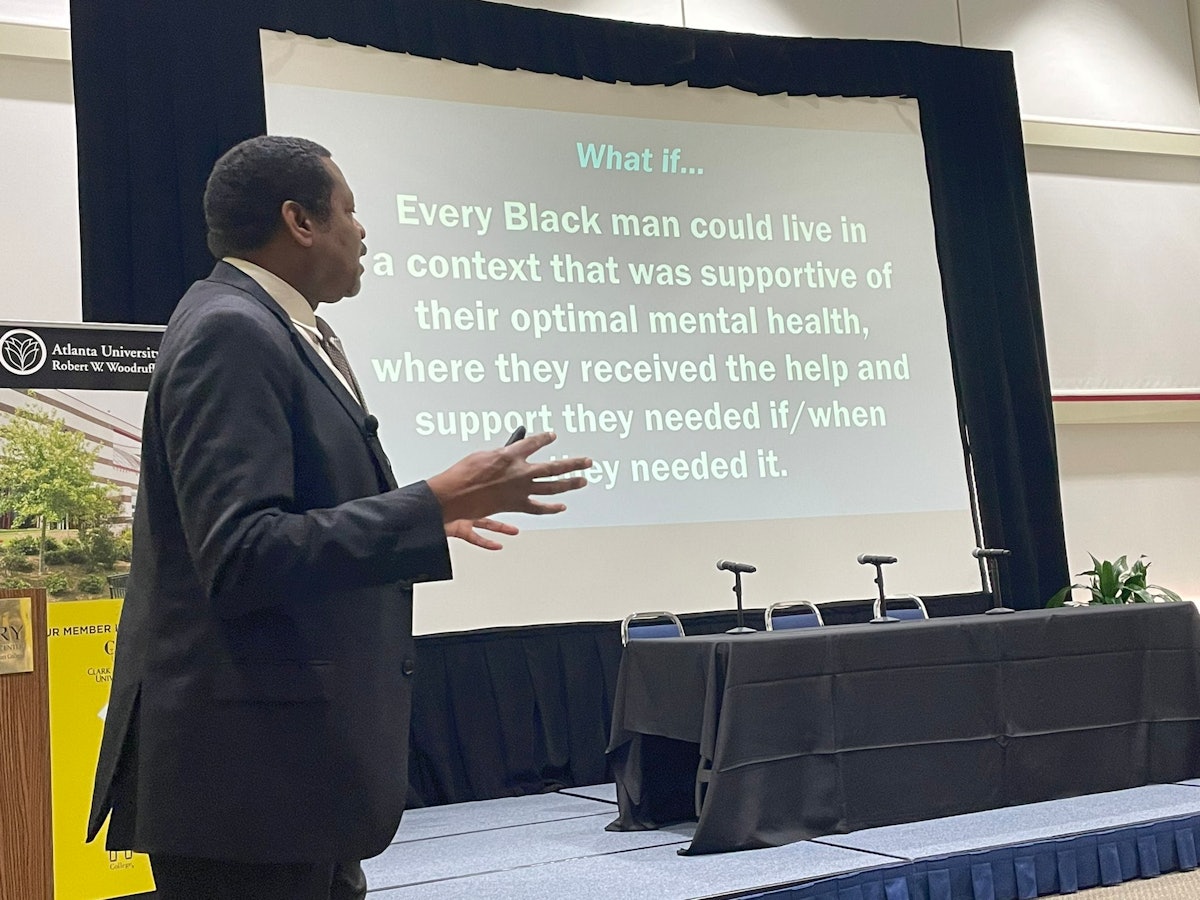 The Black Men's Research Institute (BMRI) at Morehouse College held its first spring symposium addressing health issues for African-American men.
Held at Atlanta University Center's Woodruff's Library, the "Changing the Paradigm" symposium kicked off the two-day conference with a discussion on mental health.
Dr. Walter M. Kimbroughinterim executive director for BMRI, wants the symposium to take a deep dive into mental health and how it affects black people and their communities.
Funded by a $1.4 million grant from the Andrew W. Mellon Foundation, BMRI promotes collaborative thinking and social justice, and seeks to counter conflicting narratives, mistrust, and ambiguity with a clear, authoritative voice about the Black experience.
Morehouse College has several professors who explore this topic and encourage deeper conversations about understanding masculinity and masculinity.
"This is the only comprehensive HBCU in the country that's doing something that we're doing," Kimbrough said, "and we're offering grant opportunities for faculty, staff and students to do some of that work."
"There is no place on the planet with moral authority to speak about the issues of our time that concern the well-being of black people in our society," said Dr. David Thomas, president of Morehouse. "We are an institution that for 156 years has defied the racial gravity of this nation when it comes to black people, because in most indicators of well-being, black people are at the bottom."
Dr. Arthur Evans, Jr, CEO and Executive Vice President of the American Psychological Association, delivered the keynote address at the opening session. He spoke to an audience of AUC students, administrators and fellow physicians about what society can do differently in mental health.
"Mental health issues are pervasive and have a huge impact on our community," Evans said. "The paradigm we have for dealing with mental health issues is not adequate to the complexity of mental health issues. It's problematic for the adjustment it means for black people."
He highlighted the disproportionate impact of mental health on black lives, especially since the start of the pandemic.
"If we could live in a context that supported our optimal mental health and where we were getting the help and support we needed in every community, that should be the goal," Evans said.
He has also addressed the use of evidence-based issues such as homelessness and systemic barriers for people without physical access to mental health conditions, recognizing trauma as a public health issue, and reframing the language of mental health through early detection screenings and face-to-face community screening events.
"The mental health challenge is substantial across communities, and some researchers may suggest that there is a social and environmental fragmentation of intergenerational transmission in ways that are important," said Dr. James L. More III, Deputy Director for STEM Education for the National Science Foundation and Professor of Urban Education and Executive Director, Todd Anthony Bell National Resource Center on an African-American male at Ohio State University who provided a response to the address.
Morehouse Finance major Anthony Hunter, President of Counseling Lessons for People in Life (AUC CHILL), provided his perspective on this topic as it relates to students at AUC.
"The purpose of creating our organization 11 years ago was to be a bridge between students and administrators — students and the campus counseling center," Hunter said. "The beautiful thing that we have here is to put students in the field to engage in the pre-advising phase, to have this community have these conversations about different defense mechanisms and publicize events where assemblies advocate for policies that help better student life and student engagement. in the classrooms."
Lectures for the second day of the symposium will include Dr. Daphne Watkins, founding director of the Young Black Men Project and director of the Vivian A. and James L. Curtis Center for Health Equity, Research and Training at the University of Michigan, and Dr. Howard Stevenson, Constance Clayton Professor of Urban Education and Africana Studies and Director of the Racial Empowerment Collaborative at the University of Pennsylvania.