Which guest contributor stole our readers' hearts last month?
The team at eLearning Industry loves a good read. In fact, the only thing we adore more is sharing the best guest article posts with our community. So it's time again to shine the spotlight on the best articles from our guest writers. In no particular order, here are 5 excellent eLearning guest posts published on our site last month.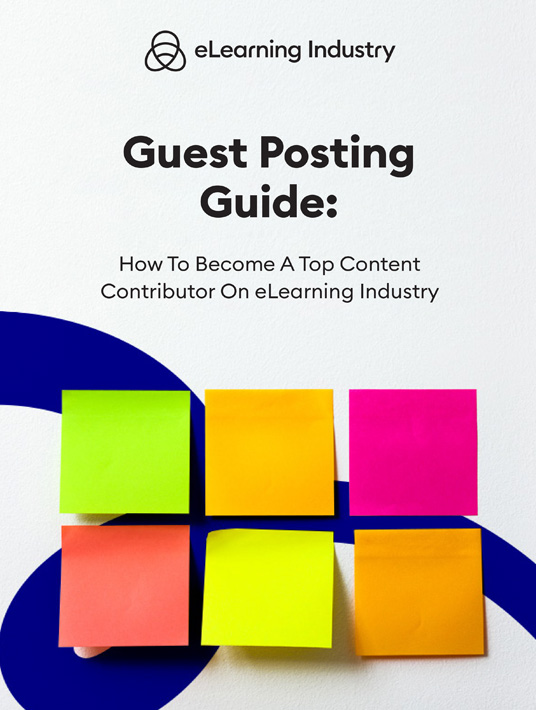 Publication of an electronic book
Guest Posting Guide: How to Become a Top Content Contributor in the E-Learning Industry
Discover what you get from guest blogging and the basics of writing a guest post for the eLearning Industry.
5 Articles You Should Check Out Today
1. E-Learning Accessibility Lessons from "God Of War: Ragnarok" by Garima Gupta
Similar to video games, eLearning takes you on a journey of discovery and learning. What can we learn from accessibility features in the latest games on the market? Garima Gupta offers tips on how to create accessible learning for every member of your audience.
2. How to Effectively Achieve Buy-in for Change in Higher Education: Strategies and Best Practices Joseph Evanick
Change is an integral part of growth, and this is especially true in higher education. To keep pace with the ever-evolving demands and needs of students, faculty and staff, institutions must be willing to embrace change. Joseph Evanick provides strategies for achieving support for change and explores the key role of communication in this process.
3. Training employees according to their learning style Roz Bahrami
If you want to effectively train employees, you need to be aware of who you are training. At the end of the day, the goal of employee training is to increase knowledge so they can perform their tasks more effectively—but every employee is different. When using online training software, it's even more important to remember that everyone learns differently, so you need to build your training content accordingly. Roz Bahrami explains how to use the VARK model in employee training.
4. Curriculum Design: A Resource for the Right Component Peter Nganga
The pursuit of engaging content should be driven by a well-designed curriculum. Peter Nganga highlights criteria for curriculum design and provides examples for implementation.
5. The power of learning and development for innovation Kambria Dumesnil
In many workplaces, L&D teams are brought in after solutions are identified to assess skills gaps and help employees prepare for implementation. Kambria Dumesnil explores how L&D teams can deliver much more value when they also engage in building business innovation capabilities.
Would you like to be featured in our next guest author showcase?
A big virtual round of applause for all the guest authors who took the spotlight this month! Each month we highlight our best guest writers in our guest post showcase. If you would like to be considered for our next list, please submit your article to gain thought leadership and connect with our eLearning community.
You can also subscribe to our guest author newsletter for tips, hot topics and exclusive promotional opportunities.