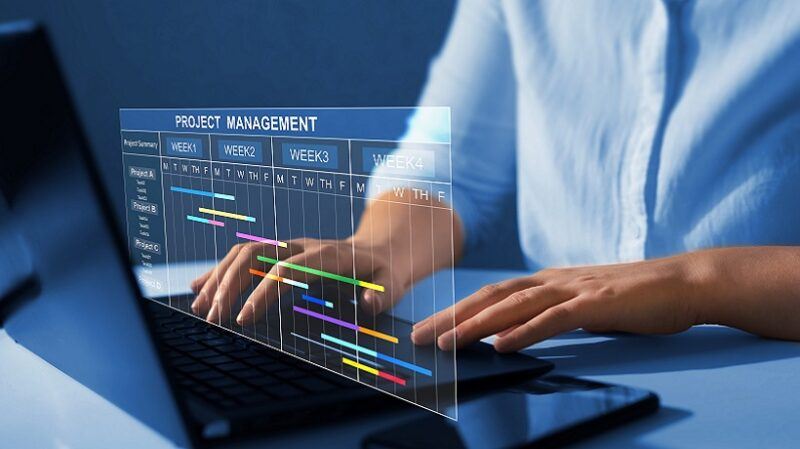 Project management software for team alignment
Project management software is becoming more popular in businesses of all sizes, from startups to Fortune 500 companies, due to the huge benefits it offers organizations, including better team alignment. In this article, you'll discover nine ways project management software helps keep your team aligned.
What is project management software?
Think of project management software as a digital assistant that helps you complete projects on time. You can use it to plan, schedule and organize tasks, as well as track progress and resources. The best project management software can simplify:
Tracking project timelines and milestones
Communication with team members
Assigning tasks and adding comments to a specific task
Project reporting, including creating a Gantt chart
Resource allocation and management
What is the importance of project management tools?
A research study by the Project Management Institute showed that 12% of an organization's valuable resources are wasted due to poor project management. The best solution? Project management software. The best project management software for teams provides a central hub for collaborating on your shared goals. Your team members can easily access project to-do lists, share documents, and discuss ideas in real time. You can also quickly identify issues and make adjustments to ensure projects stay on track. Overall, project management software is important because it facilitates better communication and helps build trust between team members by providing transparency into the progress or milestone of each project.
How project management software helps with team alignment
Project management software has become an absolute necessity for teams that want to stay on top of their projects. It offers a number of advantages regarding team alignment. These include:
1. Centralized task tracking
This feature allows you to receive real-time updates on the progress of assigned work, making it easier to ensure everyone is working toward a common goal. Centralized task tracking also eliminates the need for multiple email back-and-forths or hushed conversations, which can often lead to miscommunication or lost information.
2. Enhanced communication
This benefit can be achieved in many different forms. For example, project management software often comes with an instant messaging system that allows team members to connect quickly and easily – no matter where they are. In addition, project management solutions such as task schedulers provide a clear overview of who is responsible for which tasks, allowing everyone to stay on track throughout the process.
3. Simplified file sharing
Thanks to efficient file sharing, all project team members have easy access to the important documents and information they need to do their jobs effectively. This ensures that everyone has the latest version of the document and eliminates confusion or errors caused by outdated versions. This feature also enables better collaboration by providing an easily accessible platform for comments and feedback on any document shared in the system.
4. Automatic prioritization of tasks
Task prioritization simplifies the process of organizing meetings, appointments, and other work-related items by allowing you to easily prioritize based on urgency or importance. It also offers meeting scheduling features that can be used for regular team meetings or specific one-off events. The scheduling feature provides an easy way to reserve time on everyone's calendar without having to manually coordinate availability and send reminders for each appointment. To get the most out of this feature, make sure your project management system is integrated with the best meeting scheduling software.
5. Comprehensive reporting and analyses
For starters, comprehensive reporting helps track progress against milestones or goals. Analytics, on the other hand, are incredibly valuable when you understand how to best utilize resources and optimize processes. This is especially important for larger projects with multiple stakeholders. With detailed reports and data-driven insights, you can quickly identify where problems may be so you can take timely action.
6. Management and allocation of resources
Project management software makes it easy to track the availability and utilization of your resources, ensuring that everyone has access to the tools they need to do their jobs. For example, the software provides an overview of resource availability so you can allocate time to different tasks within a project. This eliminates potential bottlenecks caused by lack of resources. In addition, project management tools allow you to accurately track how resources are being used, allowing you to make more informed decisions about where best to place your resources to optimize productivity and efficiency.
7. Customizable workflows
With customizable workflows, you can define which tasks have priority and assign them accordingly. For example, you can create step-by-step instructions for specific tasks to ensure that everyone knows exactly what is expected of them to move the project forward. Additionally, these workflows provide transparency across departments by breaking down tasks into smaller steps or milestones, allowing you to easily track progress at any given moment.
8. Improved training
Integrating project management software with a learning management system (LMS) provides a powerful solution for better training and alignment within your organization. This integration gives your team access to a centralized repository of learning materials. Having all the materials you need in one place makes it easier to keep up with developments and onboard new employees quickly and efficiently. You can also create training courses and manage employee engagement more effectively.
9. Increased customer satisfaction
With a project management solution, your team can communicate and share information faster. As a result, projects can be completed on time and with high quality results, leading to increased customer satisfaction. By giving customers what they want, when they want it, you can build trust and loyalty, which can lead to long-term success. As reflected in the Microsoft Dynamics survey [1]95% of consumers say customer satisfaction is critical to brand loyalty.
Choosing the right project management tool for your team
With so many examples of project management software available on the market today, how do you choose the right one for your team? Follow these simple steps to buy the best software:
1. Identify your team's needs
Identifying your team's needs includes taking stock of how many people are on the project, what type of tasks need to be tracked, who will be using the software, and other factors that could affect which project management software would work best.
2. Analyze your budget
It's also important to think about how much money you can spend on the software and how often you'll need additional features or upgrades in the future.
3. Explore popular project management tools
The best way to do this is to read user reviews online. Reviews from users who have direct experience with a particular software can provide valuable insight into its suitability for your team's needs. Additionally, asking questions on industry forums can help you get direct feedback from other professionals who are currently using different types of project management tools.
4. Compare key features and benefits
Consider which aspects are most important to your project management workflow. For example, if you need an intuitive user interface that allows multiple users to easily collaborate on projects in real-time, look for a platform that offers this feature. When choosing between project management software, you should also consider price. Some may offer more expensive plans, but include additional features such as analytics or task automation that can save you time in the long run.
Experience the benefits of project management software for your team
Mordor Intelligence has reported that the project management software market will be worth $5.37 billion in 2023 and continues to be an essential tool for keeping a team aligned. It allows managers to assign tasks, track progress and stay on top of any changes that occur. Plus, it keeps everyone informed and on the same page. When teams are well aligned, productivity increases and projects are completed faster and more efficiently. If your team struggles with collaboration, take the time to invest in quality project management software today.
Reference:
[1] Global Customer Service Status Report
Resources: