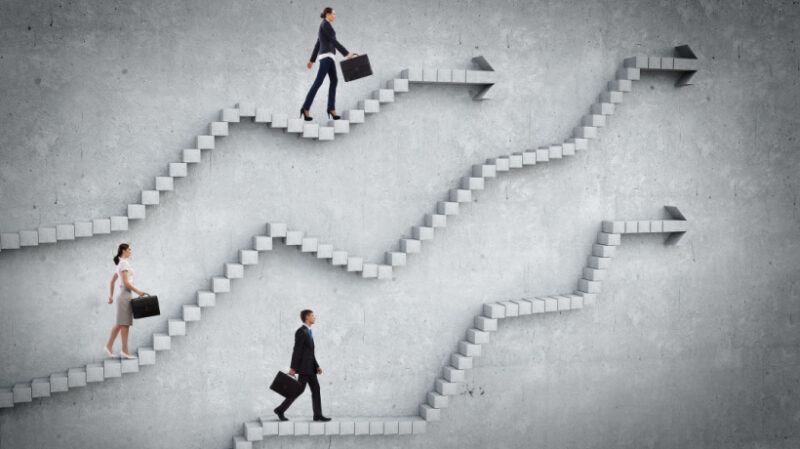 Continuous training through L&D: Why it's worth it
Investing in employee learning and development (L&D) is an ongoing process that shouldn't stop when the onboarding phase is over. Ongoing training facilitates upskilling, allows employees personal growth and reduces turnover. Find out why your organization will thrive if you start an ongoing L&D program.
7 reasons to invest in continuous training through L&D
Continuous talent development is a must to keep up with the ever-changing times. Training plans vary by company, industry, work environment and number of employees. However, today's organizations should strive for an educated and long-term workforce. There are several ways that ongoing training can be implemented as part of a company's annual resolution. L&D programs are ideal for making ongoing training available to employees and ticking it off the list.
1. Challenge the competition
Highly qualified employees will differentiate your company from the competition. Educated employees can be the deciding factor when potential clients search for your organization and decide to schedule an appointment with you, for example, to find out if your business is right for them. Even if a company offers the same products and services as ten other companies, interacting with a high-quality workforce can influence a potential client's decision. Showing your clientele that your people are constantly trained, up to the task and ready to get the job done makes your organization stand out from the crowd.
2. Stay updated
Advances and innovations are constant in every industry. Make sure your employees are informed about how their industry is evolving and changing. Ongoing training should cover all possible bases, including market fluctuations, the emergence of new trends and technologies, and how your target customer base reacts to each. Of course, it's also essential to break down your L&D strategy to facilitate ongoing training across subjects, positions or categorized by skills objectives. Give your staff a chance to brush up on the material you've covered during their learning management system onboarding, while offering them additional material to work on once the nerve-wracking orientation is over.
3. Improve and maintain employee performance
Stagnant, disengaged employees no longer feel productive or motivated. They lack the enthusiasm they had when they started in the company. Ongoing training lets them know that your company is proactive and cares enough to develop strategies to benefit their employees, and that progress can be vital to ensuring loyalty and job satisfaction. Employees who feel satisfied in their jobs are less prone to turnover and show more confidence when turning in their work.
4. Maintain job-specific skills
After completing the registration process, it's time to practice every skill you've learned in the workplace, right? That's just not true. There are skills and processes taught during the onboarding phase that are sometimes only used in special cases. This can cause your new employees to forget some necessary steps or complex processes because they are not mentally refreshed. Ongoing training is an effective way to have essential information at hand so your employees can review it based on their needs and retain their job-specific skills long-term. Not to mention, it gives them a chance to practice their transferable skills.
5. Evaluate and reward your talent
Through a continuous training strategy, companies are able to constantly evaluate the skill set of their employees and provide them with feedback. An organization that is aware that its employees are abreast of current industry trends and innovations can easily differentiate its best talent and set up benefit plans and other incentives. With ready feedback through its L&D platform, employers can decide who is ready for a promotion, who is ready for a raise, and who deserves more chances to lead their own projects. Ongoing training is also necessary to fill in the gaps when someone is unexpectedly absent or on PTO. You already have well-trained staff ready to take over when needed. Through the evaluation, you already know who is the best candidate to fill the vacant position.
6. Improve your processes
If companies want their employees to be well trained, shouldn't they also make improvements at the organizational level? By continually improving their internal processes and doing more to enhance client service and brand image, companies can set the bar for good leadership and growth for their employees. Learning and development strategies should also be implemented at the company level. And if ongoing training is readily available to all employees, it doesn't exclude senior management. Department heads and directors should also stay ahead of the curve through continuous training so that they are equipped to bring positive change to their organization on a larger scale.
7. Reduce rental costs
The onboarding phase is a lengthy, expensive process that requires a lot of planning and resources. Designing and implementing a robust L&D program and using it to continuously train your workforce significantly reduces recruitment costs. If your employees are highly skilled and up-to-date on the latest in their field, you don't need to hire new employees unless demand calls for it. The "leftover" budget can be used for other initiatives that ensure the well-being of your organization and your talent.
Conclusion
Any other educational initiatives should be implemented after careful consideration and research. Every company has different needs to address and different employee needs to consider. Continuous training requires a personalized L&D program that is frequently updated and maintained to be successful. These development initiatives reach their full potential when the learning experience is based on relevant, individual goals that serve a collective purpose. In our employee training software directory, you can search potential L&D vendors to find the one that will take your ongoing training program to the next level.